AFRICA CELEBRATES 2023: African Union Co-Hosts Africa's Biggest Pan-African Cultural & Business Event in Addis Ababa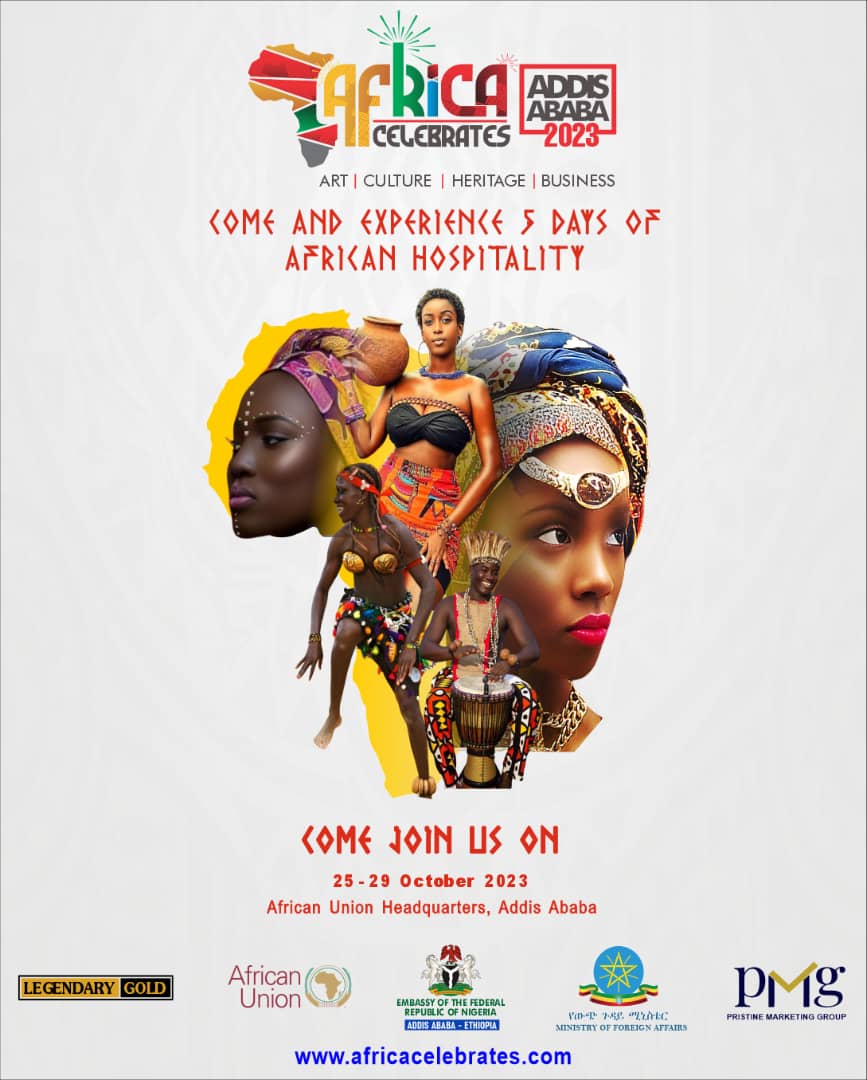 Addis Ababa, Ethiopia

The African Union Commission is set to host the 2023 edition of Africa's biggest Pan African event – Africa Celebrates 2023 at its headquarters in Addis Ababa, Ethiopia.
Organized and packaged by Legendary Gold Limited in collaboration with the African Union, UNESCO, Embassy of Nigeria in Ethiopia, Ethiopian Ministry of Foreign Affairs, Ethiopian Investment Commission and the Africa Tourism Board.
Africa Celebrates 2023 is scheduled to hold 25 – 29 October at the African Union and Skylight Hotel, Addis Ababa, Ethiopia.

The Pan-African event is aimed at celebrating Africa's unity in diversity, fostering integration through our rich cultural heritage which can be explored as a catalyst for our social economic growth, promote intra and inter African trade and tourism and encourage Africans and the rest of world to patronize "Made in Africa" by eating our food, wearing our clothes, appreciating our music, dance, films, arts, crafts and heritage.
The theme for Africa Celebrates 2023 is "Achieving African Integration through Art, Culture, Heritage, Tech & Business Leveraging on AFCFTA Implementation'', which aligns with the African Union theme of the year.
The Opening:
Africa Celebrates 2023 will be declared open on the 25th of October at the African Union, In the days following the grand opening, Africa Celebrates will showcase Africa's rich and diversified cultural heritage in the form of music, dance, cuisine, fashion, art, heritage, films and tourism opportunities from across Africa while exhibiting products made in the participating countries in the Made in Africa Exhibition.
The Business Conference:
The business component – the 5th Africa Global Economic & Development Summit will run for 2 consecutive days, bringing business people and investors from around the world to meet with their African counterparts. These meetings will include panel sessions, keynote addresses, presentations, matchmaking and B2B meetings. It will discuss the agenda that will help to accelerate trade and investment activities for both the public and private sector's actors on the continent. It will culminate into signing of MOUs for bilateral and multilateral trade and investment deals.
Africa Business Fashion Summit:
Other Forum during Africa Celebrates 2023 will include Africa Fashion Business Summit where fashion entrepreneurs from all over Africa will be discussing the business of fashion and all its value chain with the theme ''Promoting Manufacturing in Africa as a Tool for Job Creation".
Tech and Arts Exhibition:
There will be Innovation & Technology session, workshop & training for young tech entrepreneurs, Afro Film Alliance for film makers which will include panel sessions, film screening and training for young film makers, Africa Art Installation which is an art exhibition by artists from across Africa.
African Women Summit :
There will also be the Pan-Africa Women's Empowerment Summit and Diaspora Africa Konnect for Africans diaspora from all over the world to connect back to Africa.
Cultural Performances:
The rich cultural performances of dance and music from the various participating countries will take place in the evenings. Guests attending the cultural events will also be treated to the various local cuisines of the participating countries.

The Gala Fashion & Awards Night – Africa Fashion Reception takes place on the 27th of October. This event provides an opportunity to fashion designers representing each of the participating African countries to showcase their various dress cultures.
The Tour Package:
On the 28th October, a special African hospitable tour package put together by the Ethiopian Ministry of Tourism awaits the international guests of Africa Celebrates. It will culminate into a sumptuous Ethiopian dinner and cultural entertainment.
The Closing Mega Concert:
Same night of 28th October, there will be the closing mega concert of Africa Celebrates 2023. It will feature top African music artists that will thrill the delegates to the African melodies that will rent the air to the night sky of Addis Ababa endlessly.
About the organisers:
Africa Celebrates is organized and packaged by Legendary Gold Limited in collaboration with the African Union which doubles as host partner, Nigeria Embassy in Ethiopia, Ethiopian Ministry of Foreign Affairs, Africa Tourism Board, Pristine Marketing Group and Studio 1888.
Other Partners:
The partners include – Africa for Africa Women Organization, J4ward Global, Design Essentials, Dumele, Mayaz, Kana Tv, Art Tv, Kenniz Fm, Global Green Development Group, Platinum Entertainment Producers and Kalo Africa Media. Ethiopian Airlines and Skylight hotel are the official airline and the official hotel respectively.

For partnership and participation, log on to www.africacelebrates.com