VisaforMusic 2023: The 10th Edition Adds 3 Concerts, 3 Activities in a great Collaboration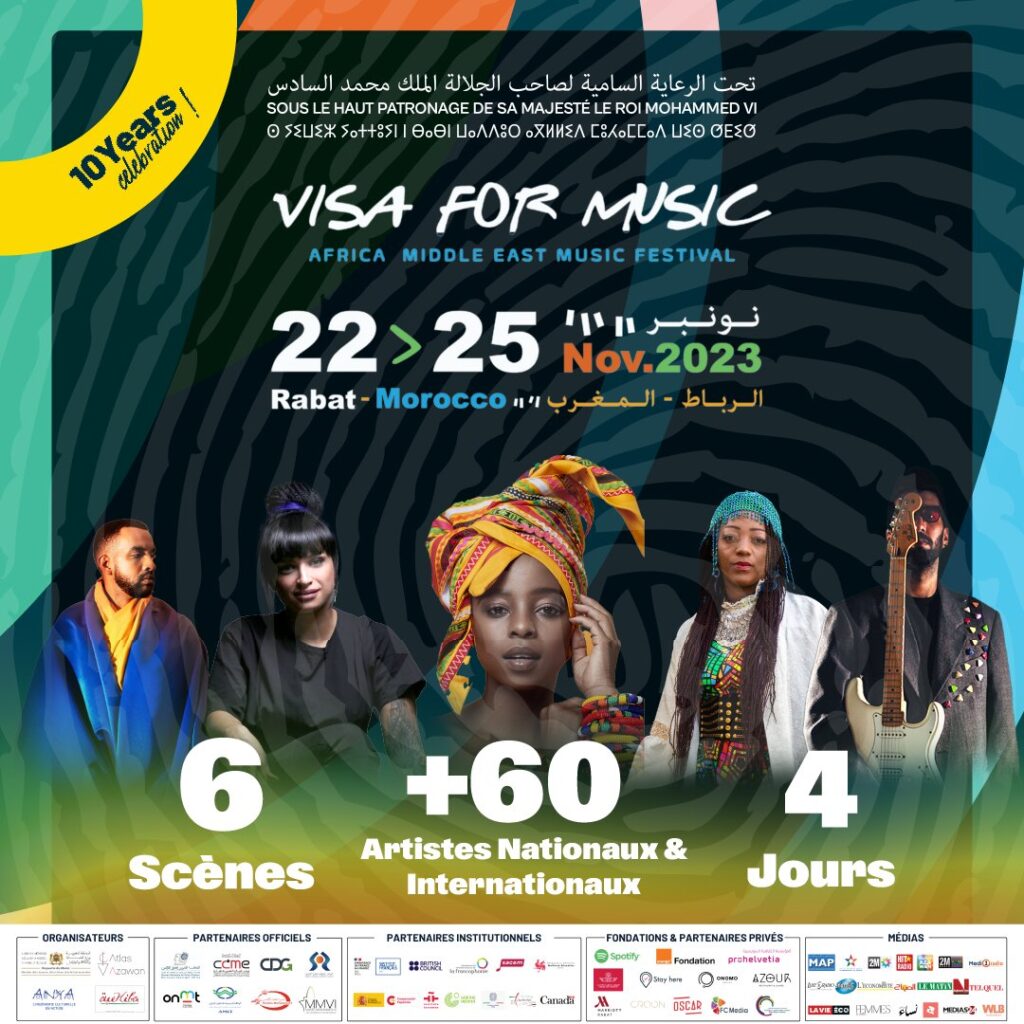 Rabat, Morocco
Longlasting partners of Visa For Music, the French Institute of Morocco and the French Embassy in Morocco partner with VFM to offer a great program once more : three concerts of talented artists, focus on the music creation process for video games and video mapping, within the program Novembre numérique, and finally a partner cocktail.
Within the program Novembre numérique, they will propose a conference under the theme "The musical creative process in video games" and a workshop under the theme "Musical production in video mapping", led by industry experts.
Programmed concerts:
Insula is a band of young musicians that bring Frantz Fanon's thought to life with power and emotion. They strategically fused Caribbean jazz and Arabo-Andalusian music into Martinique's Bèlè drum that meets African percussion. It's a musical journey between the Maghreb and the West Indies.
Also on the stable is BABEL, a documentary you can dance, conceived as an immersive, interactive audiovisual concert. It takes its inspiration from the biblical myth of the Tower of Babel to explore humanity in all its diversity and unity.Two buddies, Allan and Fallou, merged their production talents in 2016 to create African Corporation. Together, they have explored all musical styles without limit, collaborating with various artistic projects in Africa. Their travels inspired the album "Unity", a result of the artistic richness of the African continent.
Conference within the program "November Numérique
Friday, November 24 from 10:00 to 11:30 a.m. at the Mohammed VI Museum
The musical Masterclass: creative process in video games
This masterclass, led by Wladimir Pandolfo, Ubisoft's Music Business Director, aims to describe the creative musical process that is so particular to the world of video games. You will have the opportunity to discover the artistic aspect and the way in which composers marry melody and narrative to produce immersive gaming experiences, as well as the opportunities that this medium offers. The video game industry now represents by far the largest share of the entertainment market, and therefore has enormous potential for many artists.
­Workshop within the program November Numérique
Friday November 24 from 4:00 pm to 5:30 pm in Rabat, Morocco
Music production worshop in video mapping
Led by Virgile Guiost, a composer and influential mapping artist in France, this workshop invites you to discover how music can merge with visual projection to create an immersive sensory experience. The aim is to show how to manipulate audio tracks in synchronisation with visual projections to bring your artistic creations to life in a whole new way.
Partner cocktail party hosted by the French Institut of Morocco

The Institut Français and the French Embassy of France in Morocco are hosting a networking cocktail on 23 November at 7pm at the French Institute premises (1 Rue Abou Inane, Rabat, Morocco). In the warm setting of the Institute's terrace, this cocktail will be an opportunity to meet members and partners of the Institut and the Embassy, and to chat with Visa For Music's international delegates. ­

­