IATF2023: Afreximbank Signs MoU with AFRAA for "Sustainable Air Transport System in Africa"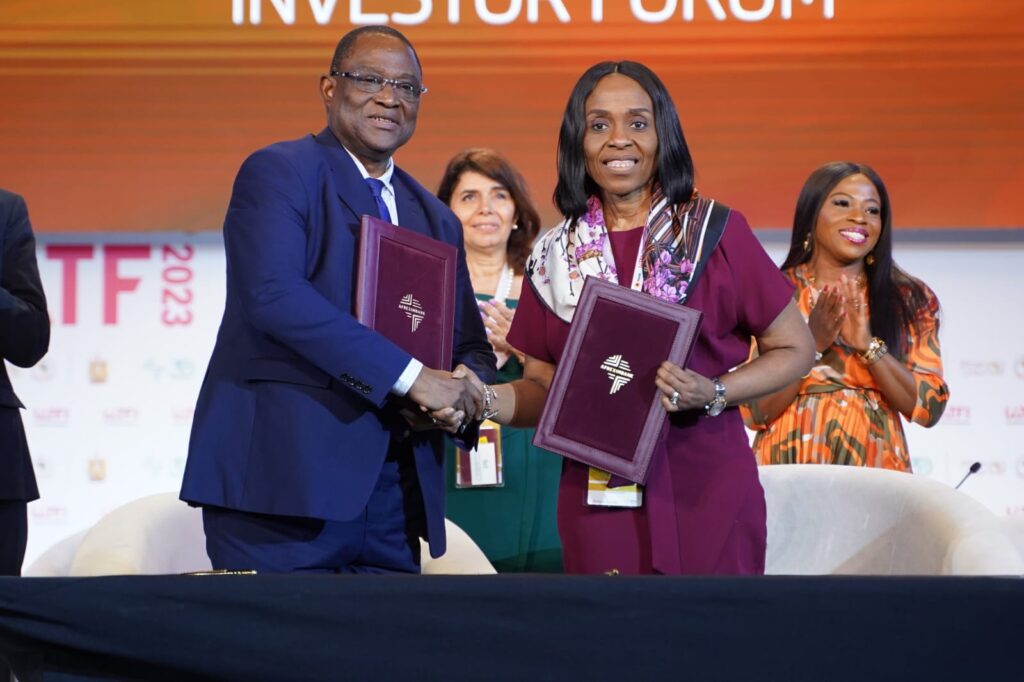 Cairo, Egypt
At the just concluded Intra-African Trade Fair held in Cairo, Egypt, the promoter of the pan-African event, Afreximbank – a leading financial institution in Africa signed an MoU with African Airlines Association (AFRAA) which aims at collaborating on the best practices in the Africa's aviation sector for the general well-being of the flight passengers.
The MoU was penned on the part of Afreximbank by Mrs. Kanayo Awani, the Executive Vice President of Afreximbank and by Mr. Abderrahmane Berth, President of AFRAA.
In a statement made available by Afreximbank, the organisation expressed its delight at an understanding with AFRAA which has yielded a positive result in the aspect of free routing flight that saw Ethiopia Airlines and Kenya Airways operating without the need for a stop over in their various countries, a system the two parties perceived as a means of saving cost, cutting carbon emissions and saving passengers' precious time.
"We are happy to announce the signing of a Memorandum of Understanding (MoU) with African Airlines Association (AFRAA), solidifying a collaboration for the development of a safe, reliable, efficient, and environmentally sustainable air transport system in Africa.
"Under the umbrella of this MoU, AFRAA and AFREXIMBANK are set to embark on coordinated activities, joint projects, and programs. This will involve the exchange of crucial information, data, and best practices, all aimed at achieving shared objectives and serving the interests of their respective stakeholders and the broader African continent. With a united vision, both organizations strive to bolster a sustainable air transport system, making a substantial contribution to Africa's socio-economic development, trade, and integration.
"For the first time in Africa, trials for free routing flights became a reality on November 2, 2023, thanks to funding by Afreximbank and technical support by aviation experts. Flights ET935 and KQ 508 operated safely outside existing routes, directly from Addis Ababa to Abidjan and Nairobi to Accra, respectively. The implementation of Free Route Airspace (FRA) is expected to annually bring significant cost savings to airlines, shorter travel times for passengers, and reduced CO2 emissions into the environment".
With this understanding between Afreximbank and AFRAA, Africa's aviation sector is set for a new vista of hope for the travelling class and the stakeholders in the sector which would help to boost the tourism sector in the aspect of business and leisure and traveling within Africa generally.