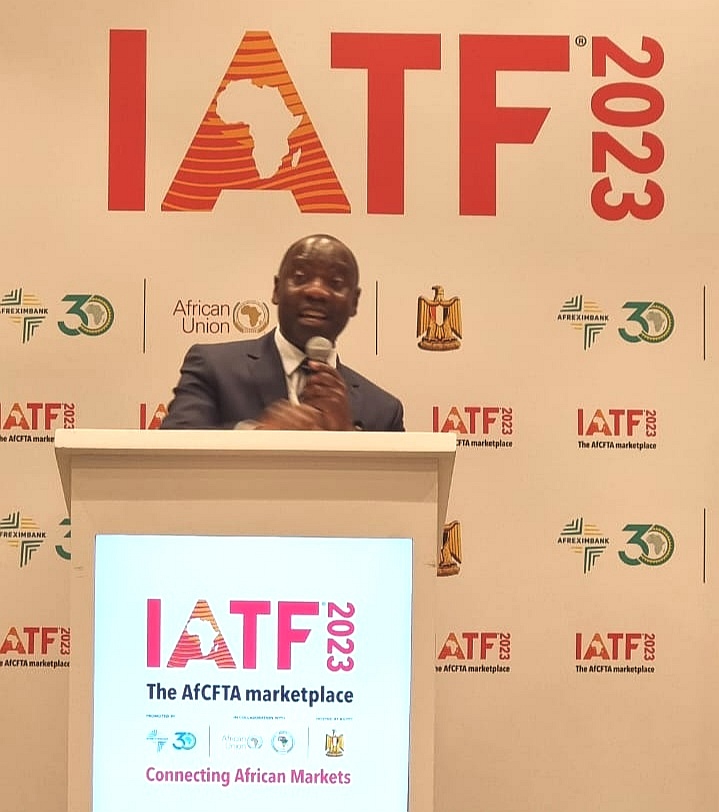 Cairo, Egypt
The African Tourism Board participated in the 2023 edition of Intra-African Trade Fair (IATF) in Cairo, Egypt where it organised a sideline event tagged "African Tourism Sustainability and Investment Forum" with the theme,"Unlock Africa's Tourism Potential Through Intra-African Trade" on the 11th November, 2023 at ICC, Cairo, Egypt. where many high-level tourism personalities were in attendance to lend their voices to the whole discourse on Africa's advancement.
Dr. Cuthbert Ncube, the President of the African Tourism Board – the leading tourism organization, in his usual element gave a resounding opening remarks to the full capacity audience at Hall B of Al- Manara, ICC.
Here is the full speech as delivered :
Excerpts :
Ladies and gentlemen, distinguished guests, and esteemed members of the African Tourism Board,
Welcome to this momentous occasion, as we gather here today to celebrate the African Tourism Board participation during this highly anticipated ITAF 2023 Summit in the captivating land of Egypt. This gathering serves as a testament to the unwavering commitment and collective vision we share for the prosperity and growth of the African tourism industry.
It is truly an honor to join this great convening to address this gathering focused on unlocking Africa's tourism potential through intra-Africa trade. Today, we find ourselves at a pivotal moment, where the possibilities for collaboration and growth in the tourism sector are vast.
In a world brimming with allure and captivating destinations, Africa stands tall, beckoning adventurers from every corner of the globe. The rich history, diverse cultures, and breath-taking landscapes of Africa have endeared it to the hearts and souls of countless travellers who seek authenticity and the awe-inspiring wonders that our motherland Africa has to offer.
Ladies and gentlemen, I am thrilled that today, IATF has provided another great opportunity of bringing you leaders, from the public and private sector, investors, and clients, to celebrate the tapestry of African brilliance, harnessing the remarkable potential of our continent's tourism industry, and embracing the essence of progressive leadership that transcends borders. We appreciate the support of our great stakeholders in tourism who have made the IATF 2023 a great success such as the AUC Commission represented by H.E Albert Muchanga and host of others.

Allow me to emphasize that, As we embark on this remarkable journey, it is imperative that we recognize the undeniable power of progressive leadership of this beautiful country which hospitality we are enjoying since day one of IATF, and as the leadership of Governments across our continent who have identified and supported as a leading sector to spur the Africa Continental Free Trade agenda for sustainable economic development across our great landmass of about 1.4bn people.
It's through great leadership that we have to change the narrative for Africa and make tourism a strong pillar of economic development across the continent. As you may be aware, the UNCTAD's World Investment Report 2023 published on 5 July 2023 shows FDI flows to Africa of $45 billion in 2022 down from $80 billion set in 2021. Which is only 3.5% of global FDI.

And, moreover, the UNWTO Tourism dashboard shows that tourism generated $11.7 billion USD and created 9.1 million direct jobs within the sector; ladies and gentlemen, Africa has the potential to do better — that is why we gather here to network, to build pertinent collaborations that can lead us to a stronger global positioning, to reap the most out of our great blessings of Africa's natural and artificial resources endowments that promote tourism business.

Africa, with its rich tapestry of cultures, landscapes, and traditions, stands as a beacon for global travelers seeking unique and authentic experiences.
As we gather here to explore the immense potential within our continent, let us recognize that our diversity is not just a source of pride but a powerful asset that can drive economic development through tourism.

In our pursuit of greatness, we deeply recognize that the journey ahead is one of collaboration, unity, and innovation. It is only through the collective efforts of governments, tourism boards, industry professionals, the private sector and local communities that we can unlock the true potential of Africa's tourism sector, by embracing progressive leadership, that gives attention to the public-private sector partnerships — a business model that the African Tourism Board is fully committed to anchor, and I strongly believe this will cultivate an environment that fosters innovation, inclusivity and sustainable development – all fundamental elements crucial to the positive growth of our stunning continent.
May we all be reminded that leadership is not merely about occupying a position of power; it is about utilizing that power to inspire change, forge unity, and pave the way for progress. Today, we need leaders who see beyond the present, who possess the audacity to dream big, and the conviction to transform their dreams into reality.
While dialogues and discussions formed at summits and round tables are crucial, we must remember that action on the ground holds the key to progress. As we gather here today, let us renew our commitment to not just talk, but to implement. Let our conversations be the catalysts that drive sustainable tourism development across Africa, as we engage with local communities, preserve our natural wonders, and create opportunities for economic growth.

As we gather here, let us be inspired by the natural wonders that adorn our landscapes, the vibrant cultures that pulse through our veins, and the boundless potential that resides within our nations.

Let us embrace the challenge of translating our vision into reality, ensuring that future generations inherit a legacy of sustainable tourism and shared prosperity. Together, we can create a tapestry that weaves together the stories of Africa's diverse nations, elevating our continent to unparalleled heights in the global tourism arena.
Furthermore, let us applaud the remarkable strides made by countries such as Rwanda, Republic of Benin, Seychelles, and soon Kenya next month, among other countries which are tireless working on adopting a similar open-Boarder policy to offer visa-free access to all African passport holders. Please let's thank these visionary leaders.
These initiatives will not only promote a sense of unity but also foster greater ease of travel, encouraging tourists from all corners of the globe to embark upon their African adventures. By removing barriers to entry, we not only attract more visitors but also amplify the economic benefits and investment that tourism brings to our communities.
Intra-Africa trade has the potential to revolutionize the tourism industry, creating a web of interconnected destinations that showcase the best of what each nation has to offer. By fostering collaboration and breaking down barriers, we can create seamless travel experiences for visitors, encouraging them to explore the beauty and wonders that span our continent.

Our goal as Africa Tourism Board to transform Africa into a holistic destination, where travelers can seamlessly move from one country to another, appreciating the distinctiveness of each locale. I strongly believe this can be attainable through enhanced synergies to drive proactive advocacy, building capacities and promoting Africa's tourism sector, which calls for a collective effort to enhance infrastructure, simplify visa processes and promote cross-border cooperation. As we strengthen these ties, we not only boost our tourism industry but also contribute to the overall economic prosperity of our nations.
The untapped potential within our borders is immense, and it is our responsibility to unlock it for the benefit of our people, investing in sustainable tourism practices, we can then ensure that our natural wonders are preserved for future generations while providing a source of livelihood for local communities.
Together, let us seize the opportunity at hand to shape a future where Africa's remarkable natural beauty, vibrant cultures, and warm hospitality are experienced by visitors from around the world. By uniting under the banner of progressive leadership, we can create a thriving tourism industry that not only ignites economic growth but also empowers generations to come.

Please dear brothers and sisters, let us embark on this journey to unlock Africa's tourism potential through intra-Africa trade with a shared vision of prosperity and collaboration. Together, we can turn the pages of a new chapter in African tourism, one that celebrates our diversity, fosters unity, and invites the world to explore the beauty that lies within our borders.
As I conclude, may l extend my heartfelt gratitude to each and everyone of you for gracing this occasion with your presence. Your unwavering dedication to the African tourism industry remains a beacon of hope and inspiration. Together, let us mold a future where progressive leadership paves the way for a thriving African tourism sector, enhancing the lives of our people and create lasting legacies.
Thank you, and let us embark on this journey towards a brighter tomorrow together.
Thank you very much for your kind attention; and may God Bless Africa; and May God Bless You all.