Culturati : 17th Edition to Take Place from 30th Nov – 3rd Dec in Lagos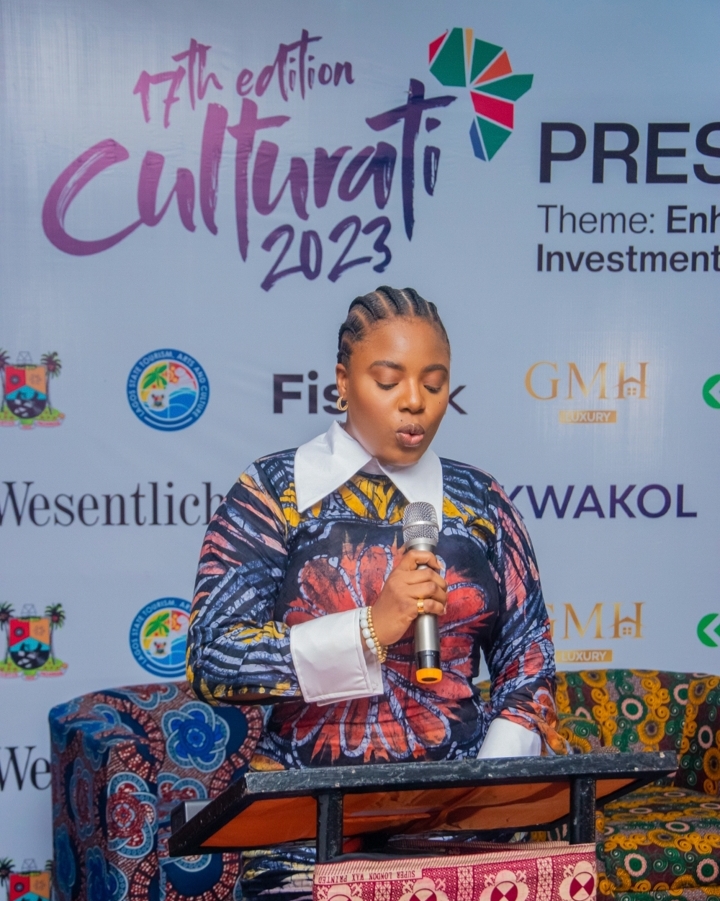 Lagos, Nigeria
All arrangements have been perfected for the staging of the most consistent and prominent cultural fiesta in Lagos –Culturati, slated for 30th November to 3rd December in Lagos, Nigeria on the theme "Exploring Opportunities in African Culture for Economic Development via Strategic Investments in Tech, Tourism & Art".
Briefing journalists at a press conference in Lagos yesterday, the Project Coordinator for this year's Culturati, Tiwashayo Odugbesan who described the fiesta as "African culture on a global canvas", announced that this year's edition will break it's own tradition by running for four days, instead of one, to provide more richer content and variety of activities for Lagosians and visitors alike.
"This year, we are serving out a far richer variety of the entire artistic and cultural spectrum that will cater to everyone regardless of nationality, ethnic origin or cultural orientation. It's African culture on a global canvas," she said.
She further noted that prominent names in the entertainment and related fields would be involved in this year's edition thereby encouraging inclusion in the cultural space, saying that the festival will also serve as an avenue for social, economic and cultural development.
"Several prominent names in the Nigerian entertainment industry will be on hand to join the panel sessions and drive conversations as we look to draw in the younger generation to understand and appreciate the value of culture and the need for cultural identity in the modern global miliue.
"As the premier cultural fusion event on the continent, Culturati will stay true to its mission to remain a dedicated catalyst for the creative economy, consistently creating opportunities for African creatives and SMEs to leverage on. Ours is a celebration and exploration of the many aspects of Africa's rich and diverse culture in an attempt to establish culture and the arts as veritable tools for social cohesion, youth development, tourism and economic empowerment", Odugbesan said.
The 17th edition of the annual cultural fiesta will be preceded by a symposium themed: "Enhancing Africa's Economy Through Investments in Culture, Arts and Tourism" on November 16, at Afe Babalola Hall, University of Lagos at noon.
According to a schedule of events, the main event will feature a beachside exhibition of food, fashion, arts, etc, slated to run from 11am between November 30th and December 2nd at Sol Beach, Victoria Island, while the grand finale will take place at 6pm on December 3rd at the Balmoral Convention Centre, Federal Palace Hotel, Victoria Island.
According to the organisers, other activities lined out for this year's Culturati include: art exhibitions, art master class, competitions, fashion shows, food village setting, talent hunt, games, musical, award ceremony and displays of cultural entertainment.
ORIGINALLY created as Sisi Oge in 2006, Culturati has evolved over the years to become an important part of the entertainment landscape in Lagos, drawing local and foreign visitors annually.