Ethiopian Airlines Partners Africa Celebrates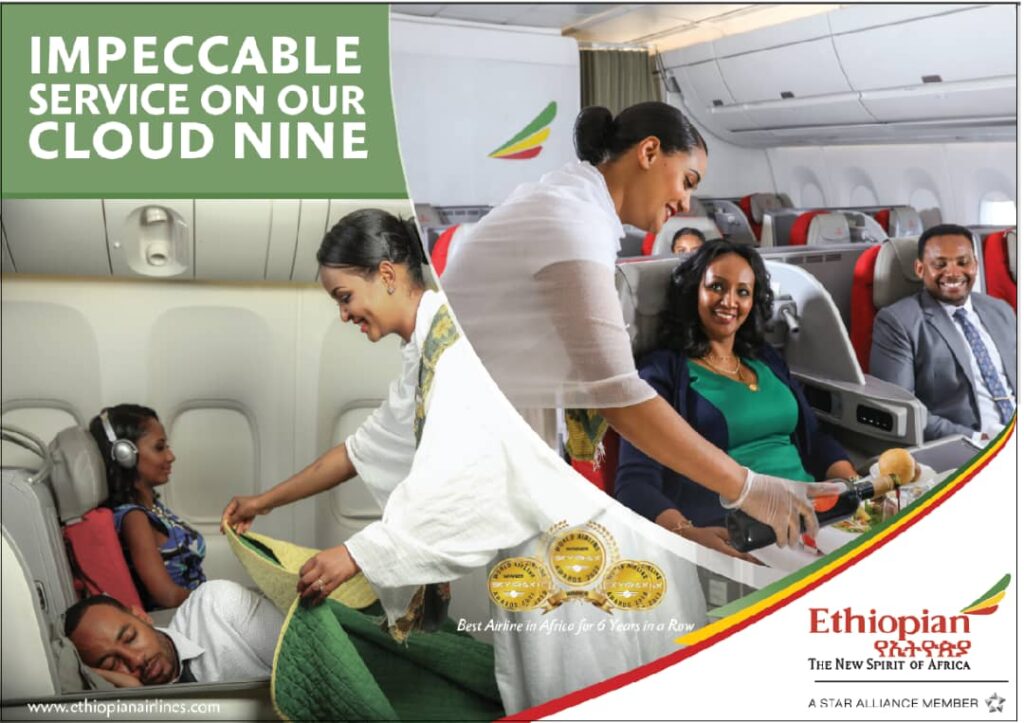 Addis Ababa, Ethiopia

Africa Celebrates and its partners are pleased to announce Ethiopian Airlines as the official Airline of the event. The event is scheduled to hold 25 – 28 October at the African Union headquarters and Skylight hotel in Addis Ababa.

Ethiopian Airlines Group (Ethiopian) is the fastest-growing airlines brand globally and the continent's largest airline brand. In its seventy-seven years of successful operations, Ethiopian, the fastest growing airline, has become one of the continent's leading carriers, unrivalled in efficiency and operational success. In addition to its main hub in Addis Ababa, Ethiopia, it is also pursuing its multi-hub strategy through a hub in Lomé, Togo with ASKY, in Lilongwe, Malawi with Malawi Airlines and in Lusaka, Zambia with Zambia Airways.

Ethiopian commands the lion's share of the African passenger and cargo network operating the youngest and most modern fleet to more than 150 domestic and international passenger and cargo destinations across five continents.
Ethiopian's fleet category consists of ultra-modern and environmentally friendly aircraft such as Boeing 737s, 777s, 787s, Airbus A350-900 and Bombardier Dash 8-400 double cabin with an average fleet age of seven years. In fact, Ethiopian is the first airline in Africa to own and operate most of these aircraft.

Having achieved its strategic plan (Vision 2025) ahead of time, Ethiopian is currently implementing a 15-year strategic plan called Vision 2035 that will see it become one of the top 20 most competitive and leading aviation groups in the world by providing safe, secured, market driven and customer focused Passenger and Cargo Transport and Logistics, Aviation Training, Airport Management and Ground Services, MRO and Aerospace Manufacturing and Travel and Tourism Services.
As a multi-award-winning airline, Ethiopian has been the champion in various coveted awards including Skytrax's 'Best Airline in Africa Award' for six consecutive years among others. The airline has been a Star Alliance member since 2011 and has been registering more than threefold growth in the past 10 years.

As part of an official statement issued by Lexy Mojo-Eyes, President/CEO of Africa Celebrates "This is a partnership made from heaven …… Africa's biggest airline partnering Africa's biggest festival".
Ethiopia Airlines will be flying participants of Africa Celebrates from all their global destinations to Africa's capital, Addis Ababa to experience real African hospitality expressed in Art, Culture, Heritage, Tech, Business, Dance, Fashion, Cuisine, Music etc'.

It is note worthy to state that on the 13th of September 2023, Ethiopian Airlines Group, the fastest-growing global airline brand and the continent's leading airline was crowned as the 'Best African Airline' at Business Traveller Awards 2023. This is the 4th consecutive year Ethiopian was so honored.

Africa Celebrates is aimed at celebrating Africa's unity in diversity, fostering integration through our rich cultural heritage which can be explored as a catalyst for our social economic growth, promote intra and inter African trade and tourism and encourage Africans and the rest of world to patronize "Made in Africa" by eating our food, wearing our clothes, appreciating our music, dance, films, arts, crafts and heritage.
The theme for Africa Celebrates 2023 is "Achieving African Integration through Art, Culture, Heritage, Tech & Business Leveraging on AFCFTA Implementation'' . This aligns with the African Union theme of the year.

Africa Celebrates is organized and packaged by Legendary Gold Limited in collaboration with the African Union who doubles as host partner, Nigeria Embassy in Ethiopia, Ethiopian Ministry of Foreign Affairs, Africa Tourism Board, Pristine Marketing Group and Studio 1888. Other partners include Africa for Africa Women Organization, J4ward Global, Design Essentials, Dumele, Mayaz, Kana Tv, Art Tv, Kenniz Fm, Kalo Africa Media, Global Green Development Group, Platinum Entertainment Producers, Ethiopian Airlines and Skylight hotel who are official airline and hotel respectively.
To participate log on to www.africacelebrates .com
For more on Ethiopian Airlines go to
Website: www.ethiopianairlines.com
Email: CorporateCommunication@ethiopianairlines.com
Contact: (251-11)517-8913/8165/8907
Social Media
Facebook: https://www.facebook.com/EthiopianAirlines.official
Twitter: https://twitter.com/flyethiopian
Instagram: https://www.instagram.com/fly.ethiopian/
YouTube: https://www.youtube.com/channel/UCCV26xfT57LiOgrZM45ouCg/featured
LinkedIn: https://www.linkedin.com/company/ethiopian-airlines/
Telegram: https://t.me/ethiopian_airlines