The Nene-Uwa 100 Tourism Power List 2023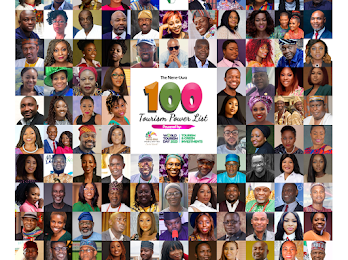 Lagos, Nigeria
The Nene-Uwa 100 Tourism Power List aims to recognize and celebrate prominent Tourism professionals in Nigeria to commemorate the World Tourism Day (WTD), celebrated annually around the world on September 27th.
The United Nations World Tourism Organization (UNWTO) explains that this year's theme, "Tourism and Green Investments", focuses on highlighting the need for more and better-targeted investments for people, for the planet and for prosperity.
To commemorate the WTD 2023 theme we hosted the Tourism Virtual Summit 2023 titled "Investing in Nigeria's Green Spaces" to explore the benefits of sustainable tourism and ecotourism development in Nigeria. The session can be watched via this link – bit.ly/tourismvirtualsummit2023
The 100 Power List is divided into five (5) categories as follows:
1.Honorary Recognitions: This category recognizes individuals who have made outstanding public achievements and contributions in the Nigerian tourism industry.
2. Industry Icons: These are individuals who have made significant contributions to the industry's development, especially in the area of changing the face of tourism in Nigeria.
3. Changemakers: This category is for renowned experts, founders, and leaders who are taking creative actions to grow and develop the Nigerian tourism industry.
4. Star Personalities: Individuals in this category are tourism professionals who are trailblazers, innovators, and advocates in Nigerian tourism.
5. Rising Stars: These are young tourism professionals who are transforming the tourism space with their bright ideas and brands.
Congratulations to all that made the 2023 Nene-Uwa 100 Tourism Power List. Keep up the amazing work you are doing in the Nigerian Tourism industry.
Yours in Tourism,
Nnenna Fakoya-Smith
Founder, Nene-Uwa Hub Ltd
Meet the 100 Tourism Power List in Nigeria 2023
Honorary Recognition
1. Otunba Ayodele Michael Olumoko – Vice President, South-West Zone, Institute For Tourism Professionals
2. Amb. Nike Okundaye – Founder, Nike Art Gallery
3. Alhaji Nura Sani Kangiwa – Director General, National Institute for Hospitality and Tourism (NIHOTOUR)
4. Otuba (Dr.) Olawanle Akinboboye – Founder, La Campagne Tropicana Beach Resort
5. Otunba Segun Runsewe – Director-General, National Council for Arts and Culture
Industry Icons
1. Abiola Ogunbiyi – Managing Director, SJ Tours Limited
2. Adefunke Adeyemi – Secretary General, African Civil Aviation Commission (AFCAC)
3. Ademola Sanya – Managing Partner, RHG Consulting Ltd & President, Skal International Lagos
4. Prince Adetunji Femi Fadina – CEO, Awori Tourism Consulting
5. Alhaji Aminu Agoha – Founder, Visa Travels & Tours Limited
6. Dayo Adedayo – DayoAdedayo Photography Ltd & Publisher, Tour Nigeria
7. Faridah Bambo Sagaya – CEO, Angel Style World Travels & Tours
8. Femi Adefope – Chairman, HRG (Nigeria)
9. Hon. Fidelia Salami – Managing Consultant, Adventure Holiday Concepts
10. Chief Folorunsho Coker – Director General of the Nigerian Tourism Development Corporation (NTDC)
11. Ikechi Uko – Founder, Akwaaba Africa Travel Market/Africa Travel Quarterly Magazine
12. Ime Udo – National President, Nigeria Association of Tour Operators (NATOP)
13. Amb. Metche & Amb. Nneka Issac-Moses – Co-Founders, Goge Africa World Wide Ltd
14. Nanna Yakubu – Zonal Coordinator North Central Zone Jos, Nigeria Tourism Development Corporation (NTDC)
15. Ngozi Ngoka – Managing Consultant/CEO, Zigona Advisory
16. Nkereuwen Onung – President, Federal Tourism Association of Nigeria (FTAN)
17. Ola Wright – Chief Executive Officer, West Africa Tourism Association
18. Sophia Khan – President, Women in Business and Tourism (WIBAT) Nigeria
19. Susan Akporiaye – President, National Association of Nigerian Travel Agencies (NANTA)
20. Temi-Tope Ogbeni-Awe – Founder, Tourism Promotion and Communication (TOPCOMM)
21. Uloma Egbuna – Managing Director, Tour Brokers International
22. Professor Wasiu Babalola – Regional Chairman, Institute of Hospitality UK-Nigeria
23. Hon. Kehinde Quadri-adu – President, Afro-Caribbean Chamber of Culture and Tourism (ACCCAT)
Changemakers
1. Dr. Adun Okupe – Senior Advisor, Red Clay Advisory
2. Akinlawon Adams – Director, Loving Lagos
3. Amaka Amatokwu-Ndekwu – Co-Founder, African Association of Women in Tourism & Hospitality & Founder, The Pyne Africa Awards
4. Ayodele Omotosho – President, Association of Travel and Tourism Writers of Nigeria (ATTWON) & CEO, Travelogue Magazine
5. Chinyere Uche-Ibeabuchi – Zonal Coordinator Lagos Campus, National Institute for Hospitality and Tourism (NIHOTOUR)
6. Chinyere Umeasiegbu – Chief Executive Officer, Global Links Travel
7. Clara Chinwe Okoro – Founder & Chief Operating Officer, My Beautiful Africa
8. David & Wonuola Olatunde-Lamide – Co-Founders, Diamonds and Pearls Travels Limited
9. Deji Ajomale-Mcword – Founder, African Sports Tourism Week & Secretary-General of World Sports Tourism Council
10. Efetobo Awhana – CEO, Avant-Garde Tours & Founder, Nigeria Travel Week
11. Captain Emmanuel Lords-Great – Founder & CEO, TBS International
12. Femi Lawson – CEO, Skyview Communications
13. Frank Meke – Travel Editor, Vanguard Newspaper
14. Hassan Zakari – National President, Association of Tourism Practitioners of Nigeria (ATPN)
15. John Omololu Olumuyiwa – Managing Editor, Travelscope Magazine & Convener, Youth Tourism & Hospitality Leaders Forum (YTHLF)
16. Justina Ovat – Principal Consultant, Calabar Hospitality House Limited & Vice-President South-South, Federal Tourism Association of Nigeria (FTAN)
17. Kazeem Balogun – Founder, Kalo Africa Media
18. Lauretta Togonu-Bickersteth – Founder & Chief Executive Officer, Hospitalityandmsb
19. Lola Adefope – Managing Director, Business Travel Management Ltd
20. Lucky Onoriode George – Executive Director, African Travel Commission & Publisher/Editor, African Travel Times Magazine
21. Michael Balogun – CEO, Tour2Nigeria
22. Moyo Ogunseinde – Founder, Upbeat Centre and Aga Culture
23. Odion Chigbufue – Executive Director, Tour Brokers International Group
24. Oluwaseyi Adegoke-Adeyemo – CEO, Kristomedia Limited & Publisher, Inside Watch Africa (IWA)
25. Omolola Itayemi – Founder, Your Travels Start Here (YTSH)
26. Pelu Awofeso – Creative Director, Travel Next Door & Founder, Travu
27. Dr. Raphael James – Founder, Center for Research, Information Management & Media Development (CRIMMD)
28. Toni Ukachukwu – Founder, Aviators Africa
29. Vera Sharon Iremuah Ohioma – Founder, GateHub & Lead, Tourism Invest Africa
30. Yvonne Joseph – Founder & CEO, 2wenty2 Hospitality
Star Personalities
1. Abiola Adelana – Head, Tourism Business, Sterling Bank
2. Adedamola Idowu – Head of Operations, Irinajo Travel and Tours
3. Adedeji Olalekan – Travel Photographer
4. Aisha Salami – Founder, Magsha Africa
5. Allen Effeh – Founder, Ibom Tourism
6. Amarachi Huelsenbeck – Founder, Travel With A Pen
7. Anago James Akeem Osho – Founder, Anago James Akeem Osho Adventures
8. Ayomofe Runsewe – Founder, Naija Nomads
9. Chiamaka Obuekwe – Founder, Social Prefects
10. David Atabo – Founder, Come Make We Go Africa
11. Debbie Egwuogu – Founder, Waka With Debbie
12. Diusor Odiakosa Rilwan-Atiku – Founder, The Ajala Store
13. Fisayo Olayinka-Bello – Founder, TravCP
14. Funmi Ajala – Founder, Funmi Ajala Travels
15. Funke Ogunkoya-Futi – Founder, Sassy Funke
16. Funmi Oyatogun – Founder, TVP Adventures
17. Ibrahim Makunjola – Founder, Nigeria Tourism Lovers
18. Ifeoma Aneke – Founder, Allure Travels and Tours Limited
19. Ifedayo Andrew-Ogunbayo – Founder, Fidol Trip and Travel Services Ltd
20. Jibola Oluseye – Founder, Taste of Africa Vibes
21. Jubilian Anikazinma Ngaruwa – Founder, Africa Unscripted & JubTravel
22. Lucia Ikediashi – Creative Producer, Shimmer Services
23. Mark More – Founder, Motley Travels and Logistics Limited
24. Mayowa Ebenezer Adebayo – Founder, Naidrenalin Adventures
25. Mohammad Adamu – Founder, Bauchi Friends Tours Ltd
26. Omotoke Fatoki – Founder, Alarinka
27. Omowumi Etiko – Lead Travel Planner & CEO, The nuSafiri Experience
28. Oluwabunmi Akinyemi – Founder, Tourvant
29. Sam Adeleke – Founder, Travel With Sam
30. Sikemi Ifederu – Founder, Tambollo
31. Taiwo and Kehinde Oguntoye – Founders, Twin Tourism & World Twins Festival
32. Tolulope Dopemu – Founder, Travelotus Luxury Tours Limited
Rising Stars
1. Adedeji Ayomide – Founder, The Ayomide Travels
2. Bethel Moseglad – CEO, Nature Connects
3. Bolaji Seun – Founder, Naija Explorers
4. Busayo Adebisi – Founder, Explore With Busayo & My Travel Store
5. Cornelius Ugwunwa – CEO, Kardinal Technologies Inc
6. Faith Oguntayo – Founder, Faithooo Travels
7. Jumoke Munu – Founder, The Smiley's Place Travels
8. Nike Oresanya – Travel Content Creator, Hey Nikeh
9. Sewedo Balogun – Founder, Sewedo Tours
10. Wemimo Toluse Kolade – Founder, The Fika Experience
Bonus: Tourism Initiatives
1. Tourism Hackathon Nigeria – Hack 4 Tomorrow
2. Tourism On Two Wheels – Bikers Attitude Determination Gang
#NeneUwa100TourismList2023 #WTD2023 #NigerianTourism