ATB President Calls for the Appreciation of AfCFTA as a Game Changer in Africa's Economy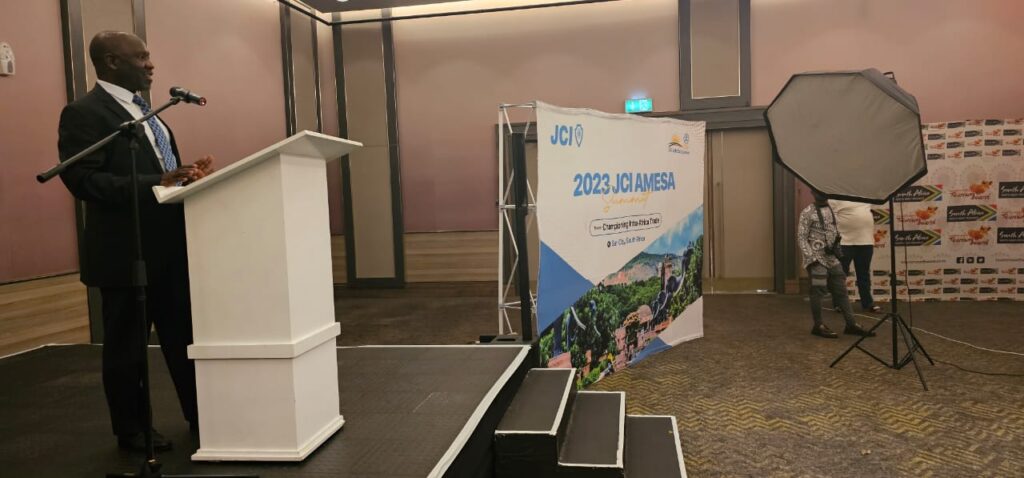 Suncity, South Africa
The President of the African Tourism Board, Hon. Cuthbert Ncube has emphasised the importance of the African Continental Free Trade Area – AfCFTA as a game changer in the advancement of Africa's economy.
He made this clarion call at the 2023 Junior Chambers International and Middle East Senate Association (AMESA) Summit held in Suncity, South Africa which brought together Senators from 14 Countries as the highlight, and the theme of the summit was "Championing Intra-Africa Trade".
The ATB President who was also the VIP Guest of Honour further laid his emphasis on the importance of AfCFTA as a major catalyst that must be harnessed and appreciated for it be perceived as that major game changer for Africa's economic development, and as a framework for consolidating regional markets, thereby promoting greater trade and increasing investments.
"Our focus be beamed on is on how the AfCFTA can be used to promote regional value chains and increase production capacity, enhancing the roles of women and youth in regional and continental development and how we can leverage trends in digital transformation to enhance trade and investment. Also to raise awareness about the significance of creative economy in promoting inclusive and sustainable development and deepening regional trade at all levels.
Therefore, we need to put measures in place to address diverse regulatory frameworks that impact regional trade and investments, also to promote affirmative actions towards environmental sustainability by addressing the adverse effects of climate change, and explore strategies to address barriers on access to finance", Ncube said while delivering his remarks.
He extended his thoughts by pleading for the roles of women and youth to be enhanced, regionally and continental wise in order to usher in the desired development.
According to him, in his submission, he was of the view that for the continent to leverage on the full potential of the AfCFTA, there was a need to ensure that women and youth are fully engaged in various segments of the African economy, saying this could be achieved by developing innovative approaches to policy and pragmatic interventions, such as skills development, capacity building, and mentorship programs that support the growth and development of women and youth entrepreneurs.
Ncube also advised governments, multilateral development partners and the private sector to collaborate and ensure that gender- sensitive policies are integrated into the development designs.

The three day summit was concluded on a high note as awards of recognition were presented to those who have championed the cause of developing Africa's economic in their various endeavors including tourism.