PYNE-NESG Africa Conference : Benin Royal Hotel, Cotonou, the Best of Hospitality in Benin Republic Adding Glamour to Pyne Exhibition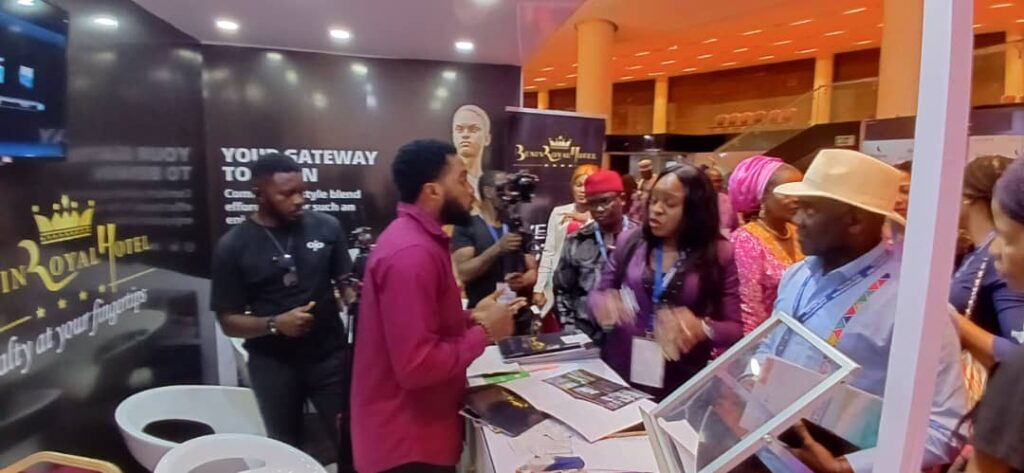 Hon. Vera Kamtukule, the Minister of Tourism, Malawi ; Hon Cuthbert Ncube, President, African Tourism Board and other dignitaries visiting Benin Royal Hotel booth at Eko Hotel and Suites, Lagos where the hotel representative, Adebayo briefed them
Lagos, Nigeria
Benin Royal Hotel, Cotonou was one of the outstanding exhibitors at the recently held PYNE-NESG Africa Conference at the coveted Eko Hotels and Suites, Lagos.
The hospitality business established in 2006 by Mr. Dine Bouraima who is the Chief Executive Officer of the company and the President of Consortium Touristes Par Millions Au Benin, added glamour to the exhibition among it's peers and the booth was beautifully decorated in its royal colours of black and gold which connotes everything royalty, showcasing to would be clients the beauty to behold once at the property that stands majestically on an espance space, adorning Cotonou sky in an environment of great ambience.
Benin Royal Hotel Cotonou is one of the African Royal Hotel Chain, and the first indigenous four star rated hotel in the country with both government and private top – notch clients from all stratas of the society.
With sixty five fully furnished, state-of-arts and fully air- conditioned rooms of different categories, and two beautifully crafted restaurants, a roof top swimming pool and eight ultra modern multiple purpose conference rooms that can accommodate from 20 to 400 people at a time, BRH is is a place to enjoy warmth, luxury and royalty.
The property also boost of a beautiful bar lounge, spa, fitness centre and 24/7 wifi connectivity.
Benin Royal Hotel is definitely setting a great standard as a pacesetter for hotelling business in terms of high- end business meetings, seminars, conferencing, leisure and events management in Cotonou.
BRH facility is located in the heart of Cotonou, nestled within major landmarks and just 10 minutes drive from the Cardinal Bernadin GANTIN International Airport and trekkable distance to the city's main market.
An assurance was established by the participation in the exhibition at this year's PYNE-NESG Africa Conference and Awards that a visit to the facility would be welcoming and will be rewarded with value for money.
The Exhibition Booth: