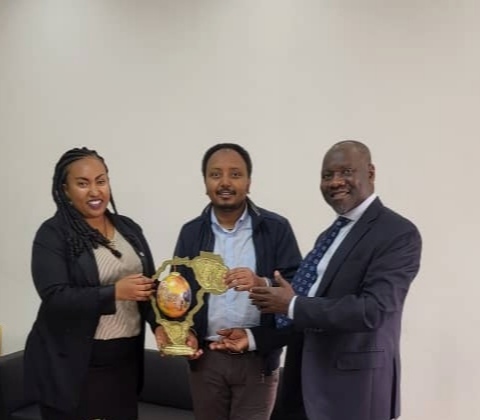 At a bilateral engagement with the government of Ethiopia, represented by Hon. Seleshe Girma, State Minister of Tourism, Ethiopia, the Country re-affirmed her commitment to support the African Tourism Board in its quest to advancing tourism in Africa.
This affirmation formed part of the discussions between ATB, represented by the President, Cuthbert Ncube and the Secretary General, Hiwotie Amberbir while on a working call to the Ministry yesterday in Addis Ababa, the Ethiopian capital.
The Minister re-assurred the organisation of their support and commitment in the partnership and both parties agreed that this synergy will expedite the promotion agenda of destination Ethiopia as truly "the land of Origin" with so much diverse offerings, emanating from the most amazing landscapes, nature reserves, unique cultural heritage, rich history and remarkable biodiversity.
ATB President noted that with the level of progressive infrastructural development which the government has aggressively embarked on in positioning the nation as a tourist hub in the region, and as the "capital of Africa" because of the presence of AU headquarters in the country that accommodates fifty four member states Ambassadors and Head of States on a regular bases, thereby contributing immensely to the tourism GDP earnings of the country.
"little wonder that Ethiopia has become the most attractive, popular, and emerging tourist destination in Africa, in MICE, conferencing, tourism infrastructure investment, and business travel, gaining emmense attraction as the world connectivity hub, with a robust visa on arrival to most countries which has added much benefit in positioning the Horn of Africa destination,and best known for its famous high quality coffee", Ncube said.
You will recall that a team from ATB were in Ethiopia where they visited the central region of Ethiopia on a tour of the enchanting Wenchi Lake Resort which is undergoing construction, a project that once completed will further boost the image of the country as an emerging captivating destination in Africa.
ATB also emphasised that the engagement with Ethiopia was indeed an achievement, collaborating with the government of Ethiopia in a strategic partnership which aims at not only promoting the country but also positioning Africa as the best choice for investment and tourism attractions.