Angélique KIDJO Headlines Concert of "Agodjies" in Cotonou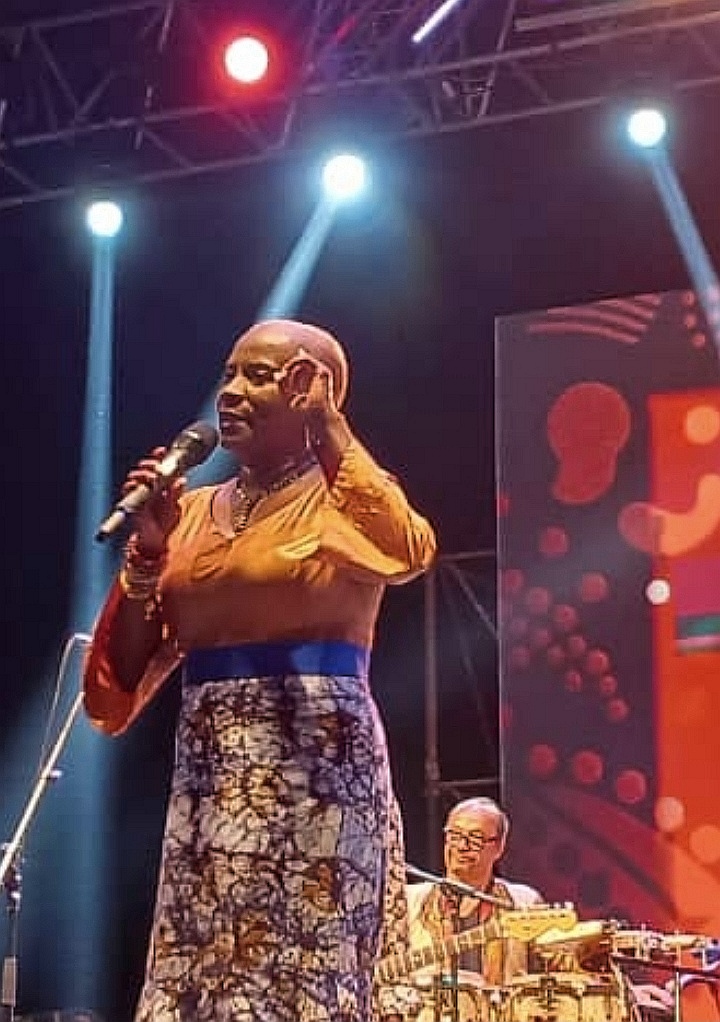 Cotonou, Benin Republic
The legendary Angélique Kidjo joined other fellow female singers in a rare musical concert tagged " Saga des Agodjies" her native, Cotonou Benin Republic.
It was an exciting moment in the Francophone country when the multiple award winner thrilled revelers at the newly built Place of the Amazons, a special space within Cotonou, dedicated for the cenotaph for the memory of the ancient women warriors, the Agodjies a symbol of women's strengthen per excellence, that fought in defense of the present day Benin against outside incursions.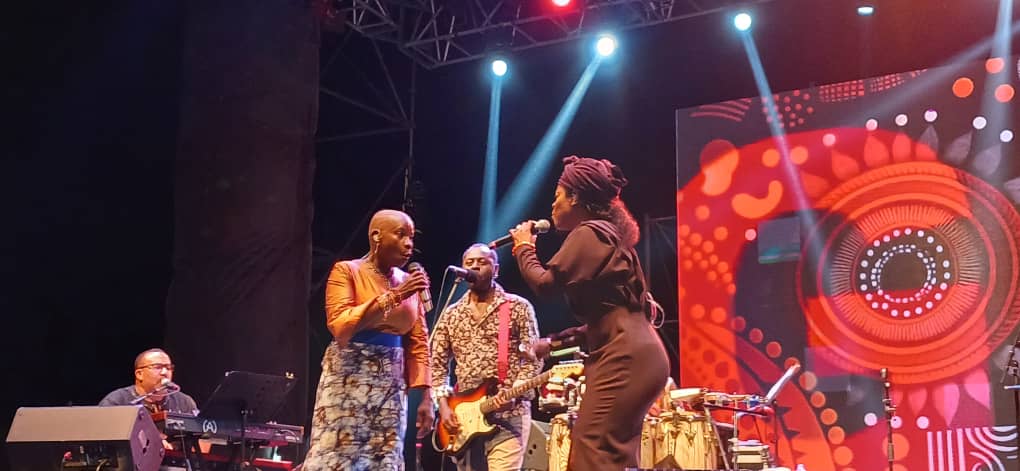 Angélique KIDJO in a performance with Zeynab Habib at the concert in Cotonou
Mama Africa as she is fondly called by fans was in her usual element where she performed many of her hit tracks to the admiration of all at the venue.
"She is a mother for us all, she is friendly, accommodating and you can see her energy on stage. She carries everyone along, that's one of the things l like about her, Zeynab Habib, another Benin super star said.
After much of her solo performances which made the revelers repeatedly called more, it was time for her to invite other female singers to join her on the stage which led to an excellent performance on their part.
Angélique KIDJO in a performance with Teriba at the concert in Cotonou
On stage, their performance could be likened to a case of having the female warriors on the battle field and they replicated the bravery and creativity on the stage, they way their ancestors would do and defended the nation in the ancient time.
Angélique KIDJO performing with other female artists at the event in Cotonou
No doubting the fact that Cotonou was extremely agog and Beninese were super excited to watch their own global icon Angélique KIDJO's performance right in their presence.
"For me it was like a dream come through, watching own Angélique live here in Cotonou, I'm so happy and got the best of satisfaction, Nadia, a reveler said.
Revellers at the concert in Cotonou
The performance was part of the continued celebration of the country's 63rd independence anniversary which took place recently at the same venue where His Excellency, Patrice TALON, President, Republic of Benin invited his counterpart, His Excellency, Bola Ahmed Tinubu, President, Federal Republic of Nigeria Nigeria as a special guest of honour.
Other artists that performed alongside Angélique Kidjo at the concert were, Zeynab, Fanny Sènan, Oluwa Kemi, Sèna Noble, Amy Mako, Kumpan, Nady Nady, Bi-Mari, Teriba, Ayodélé, Léman, Pépé Oléka, Sessimè, and Faty.