ACF 2023: Ecobank Group Signs MoU with the Women Working for Change on Gender Diversity Charter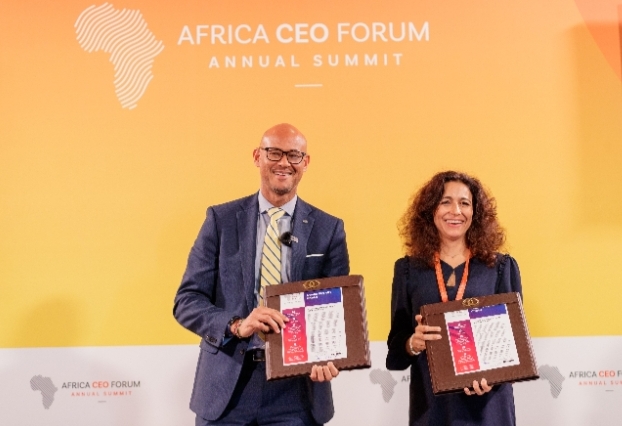 Women Working For Change, From 300 to 3,000: What if tomorrow's African champions were women?

Abidjan
Ecobank Group, the leading Pan-African banking Group, has announced its commitment to gender diversity by becoming an official signatory through an MoU with the Women Working for Change on Gender Diversity Charter.
The signing ceremony, held at the Africa CEO Forum 2023, was jointly led by Jeremy Awori, Chief Executive Officer of Ecobank Group, a strong advocate for diversity and inclusion within the organisation, and Lamia Merzouki, President of WFC and COO of Casablanca Finance City Authority. This milestone not only demonstrates the growing momentum towards gender-inclusive leadership in African economies but also emphasises the transformative power of collaborative efforts in driving meaningful and lasting change.
The Women Working for Change Charter outlines key principles that promote gender diversity and encourages organisations to establish their own objectives and action plans according to their context and resources.
Aligning with Women Working for Change mission, Ecobank Group's decision to sign the Gender Diversity Charter also showcases the bank's commitment to fostering an inclusive environment that empowers women to thrive and contribute to Africa's socio-economic development. "Increasing gender diversity and promoting equality are integral to our mission at Ecobank. The recent Diversity and Inclusion Programme launched to address both internal and external gender-related priorities provides ample evidence of our commitment," said Jeremy Awori, CEO of Ecobank "We firmly believe in the transformative power of women to drive sustainable growth. By signing the WGender Diversity Charter, we pledge our commitment to creating greater opportunities for women in Africa and building a diverse leadership pipeline within our organisation. This act also demonstrates our accountability and dedication to the success of women across Africa ".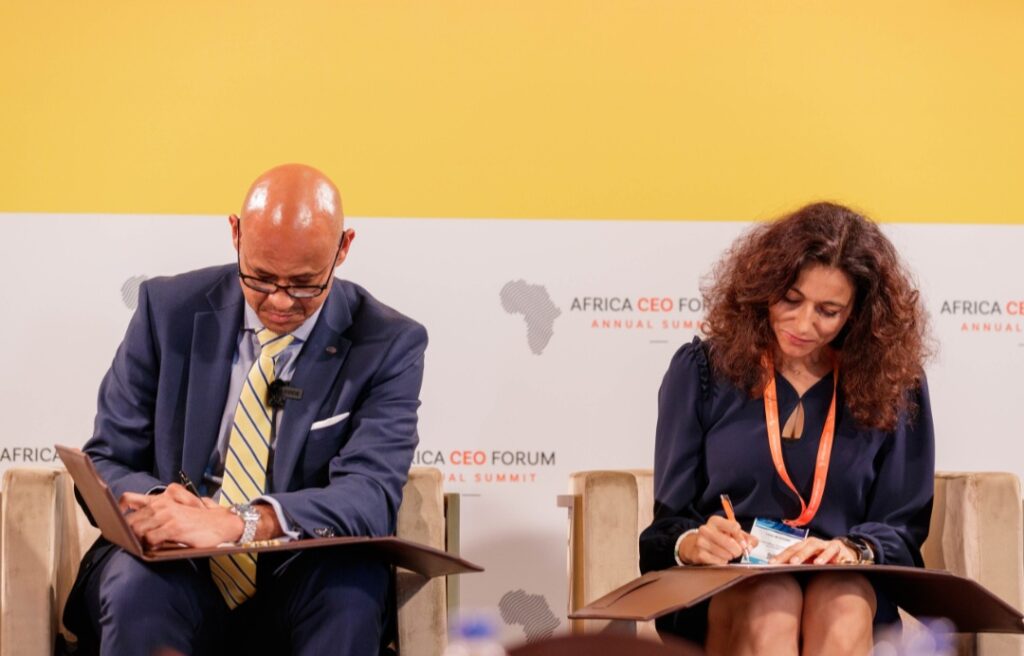 Jeremy Awori, Chief Executive Officer of Ecobank Group and Lamia Merzouki, President of Women Working For Change during the MoU signing ceremony at Africa CEO Forum 2023 in Abidjan
By championing the next generation of African women CEOs, Ecobank has also demonstrated its belief in the immense economic potential women hold on the African continent. Indeed, studies reveal that closing the gender gap in sub-Saharan Africa alone could generate an additional $95 billion annually, according to the African Human Development Report (2016).
Remarkable female CEOs at companies such as East African Breweries and Impala Platinum Holdings demonstrate how women can enhance organisational profitability and drive success. However, gender parity in Africa remains stagnant, and the private sector has yet to fully grasp the link between women's career progression, economic growth, and the emergence of the next generation of African champions.
To address this issue, a panel discussion was held at the Africa CEO Forum, exploring best practices for addressing gender inequality and empowering women to reach leadership positions. The panel featured prominent leaders from various industries who have successfully championed gender diversity and inclusivity in their organisations, namely Ms. Owen Omogiafo, CEO at Transcorp, Ms. Diane Karusisi, CEO at Bank of Kigali, Ms. Mukwandi Chibesakunda, CEO at ZANACO, Mr. Jeremy Awori, CEO at Ecobank Group, Ms. Zouera Youssoufou, CEO at Dangote Foundation, Ms. Nana Abban, Group Executive Consumer Banking at Ecobank Group, Ms. Lamia Merzouki, COO at Casablanca Finance City Authority, and Ms. Zineb Sqalli, Managing Director & Partner at BCG. By sharing their insights, experiences, and strategies, the panel aimed to inspire and encourage other organisations to prioritize gender equality as a strategic imperative.
Another key takeaway from the Women Working for Change initiatives is that, despite the potential benefits, only one in three African CEOs currently prioritises gender diversity. Achieving gender parity requires proactive policies, careful planning, clear commitments from leaders, and ongoing evaluation. While progress has been made in recent years regarding female representation in senior management and on boards, it is crucial to recognise that these advancements are a result of intentional efforts. To make gender diversity a strategic corporate goal, organisations must implement comprehensive strategies that include mentorship and sponsorship programmes, flexible work arrangements, and unbiased recruitment and promotion processes. Investing in initiatives that empower women, such as leadership development programmes and targeted training, can also foster an inclusive corporate culture that values diversity and equality.
By prioritising gender diversity, organisations can unlock the full potential of their workforce, enhance innovation and decision-making, and drive sustainable economic growth. It is essential for leaders across sectors to recognise the business imperative and actively work towards achieving gender parity.
About Ecobank Group
Ecobank Group is the leading private pan-African banking group with unrivalled African expertise. Present in 35 sub-Saharan African countries, as well as France, UK, UAE and China, its pan-African platform provides a single gateway for payments, cash management, trade and investments. The Group employs over 14,000 people and offers Consumer, Commercial, Corporate and Investment Banking products, services and solutions across multiple channels including digital, to over 32 million customers. For further information, please visit ecobank.com
About the AFRICA CEO FORUM  
Founded in 2012, the AFRICA CEO FORUM is the leading platform for CEOs of the largest African and multinational companies, investors, heads of state, ministers, and representatives of the main financial institutions active on the continent. Undoubtedly the place of high-level meetings, experience-sharing and deciphering trends affecting the business world, the AFRICA CEO FORUM Annual Summit aims to propose concrete and innovative solutions to move the continent and its businesses forward. The AFRICA CEO FORUM was created by Jeune Afrique Media Group and is co-hosted by IFC, a member of the World Bank Group.