NIGERIA AIR SCAM: How Nigeria Hired Ethiopian Aircraft as a Showoff for Nigerians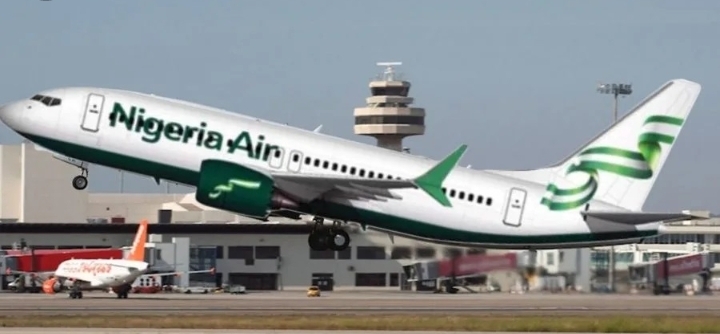 Dayo Olumide, MD Nigeria Air
The Managing Director made the clarification before the Senate Committee on Aviation
It was one of the shows of shame in the Nigeria's aviation sector, where the debacle has been unpleasant, the latest being the most disgusting of all. Imagine the last administration trying to cover up it's failure of provide an airliner for Nigeria's travelling class, but it was done in such a shameful manner and another wasted effort, time and Finance.
To drive the message home further, the Managing Director of the supposed Air Nigeria, Dayo Olumide explained the whole situation while being invited by the Senate Committee on Aviation in Abuja.
Excerpt:
"It is a pleasure to be here and to finally make our position known where I can clarify all the misconceptions regarding Nigeria Air as it pertains to the technical aspects of it.
As you know this airline was launched with the logo in 2018. Several things have transpired since then that has nothing to do with me.
I was invited last February, my mandate is to secure an air operating certificate for the airline not necessarily to operate the airline but to secure a licence to fly. And that is entirely my responsibility.
The aircraft that came in and left was a legitimate charter flight. Anyone of us here if we have a destination wedding in Senegal, we can charter an aircraft.
You don't need to have a licence to do that, you just charter an aircraft, an aircraft you paid for it, it will be brought here, take your passengers, and off you go.
And that is what we did. But in this case, it was to unveil. Ever since 2018, all you have ever seen about Nigeria Aircraft were pictures, and drawings, not the real aircraft, and we thought it was time to show what the real aircraft will look like and also to let shareholders know.
You see we have institutional investors, they are not in aviation, but they are putting their money for 10 or 15 years and to exit may be at the premium. So they need to see what the actual aircraft will look like.
So we brought it in here to show them what the aircraft will look like. Then the social media dimension came into it.
It is an Ethiopian-registered one. Why is it Ethiopian-registered? To operate aircraft in Nigeria, they must be Nigerian registered; on 5th November. That aircraft was not on 5th November registered because it was a chartered flight and it came in with just a few day's clearance and off it went.
For us to get that licence which is my mandate, we must among other things have three aircraft before the NCAA will give us a licence and those three aircraft must be Nigerian-registered aircraft."
There are five steps that one goes through to have a licence. We have gone from the first one to the second one but the problem is that when you change what we call post holders.
Post holder is a technical term for director of maintenance, or chief pilot, when you change them and replace them completely, you have to go back to phase one to interview them to be compliant to the authority, to the civil authority. But haven gone back to phase one doesn't mean you have done anything thing wrong. That is a correct and normal process.
So when this aircraft came on a chartered flight, everybody said we have launched Nigeria Air.

There are learned people in the aviation industry who could have countered that when social media came out, they chose not to."
It is important for the new administration to probe the situation and proffer a lasting solution to the general aviation issues especially about Nigeria having its own airline.