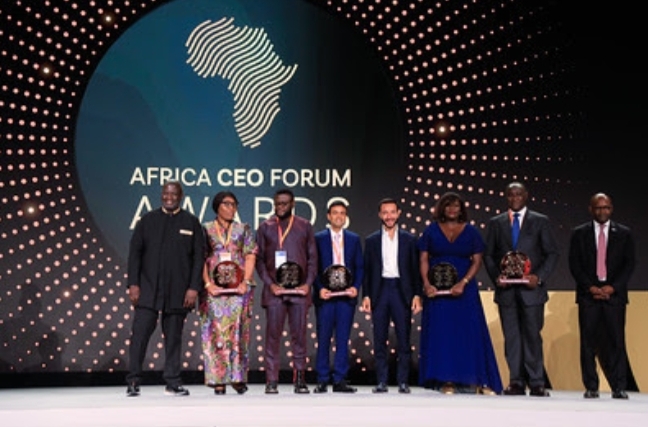 The most successful companies and leaders on the African continent were recognized at the AFRICA CEO FORUM AWARDS 2023, organized in partnership with Mazars. 
Abidjan, Côte d'Ivoire
Each year, the AFRICA CEO FORUM AWARDS recognize leaders, companies and investors whose performance has made a significant contribution to African growth. More than 250 companies, investors and CEOs have been nominated over the last ten years, representing many key actors who have driven Africa's economic expansion. 
This year, the awards ceremony was held during the AFRICA CEO FORUM gala dinner on Monday June 05 in Abidjan. There were 22 nominees competing in five categories: CEO of the year, Disrupter of the year, Gender leader, Local impact champion and African champion. The prestigious awards were selected by renowned and multidisciplinary juries. 
The winners of the 2023 edition of the AFRICA CEO FORUM AWARDS are : 
Delphine Traoré
PDG, ALLIANZ AFRICA
ARISE Integrated Industrial Platforms
mPharma
Janngo Capital
Africa Finance Corporation
" Mazars was very proud to sponsor the awards ceremony at the AFRICA CEO Forum for the 3rd year. Spotlighting leaders is vital, igniting inspiration for future entrepreneurs and CEOs. We congratulate all of the winners and were heartened to foster meaningful connections and exchange ideas with all participants. Together, we cultivate a vibrant ecosystem, driving economic growth and unleashing Africa's vast potential" said Abdou DIOP, Managing Partner of Mazars in Morocco.  
– – -  
About the AFRICA CEO FORUM  
Founded in 2012, the AFRICA CEO FORUM is the leading platform for CEOs of the largest African and multinational companies, investors, heads of state, ministers, and representatives of the main financial institutions active on the continent. Undoubtedly the place of high-level meetings, experience-sharing and deciphering trends affecting the business world, the AFRICA CEO FORUM Annual Summit aims to propose concrete and innovative solutions to move the continent and its businesses forward. The AFRICA CEO FORUM was created by Jeune Afrique Media Group and is co-hosted by IFC, a member of the World Bank Group.
Last but not least, the Forum convenes two powerful networks: the Women Working for Change, a strong pan-African advocacy group, network and platform made up of +1000 women leaders from Africa's private sector, powered by ECOBANK, and; the Disrupters Club, a network of CEOs from the most dynamic start-ups powered by VISA. Around fifty of them have been chosen to take part in the event, build networks with Africa's most influential CEOs and speak at different moments during the Forum.