Visa For Music Announces the Advisory Jury for 2023 Edition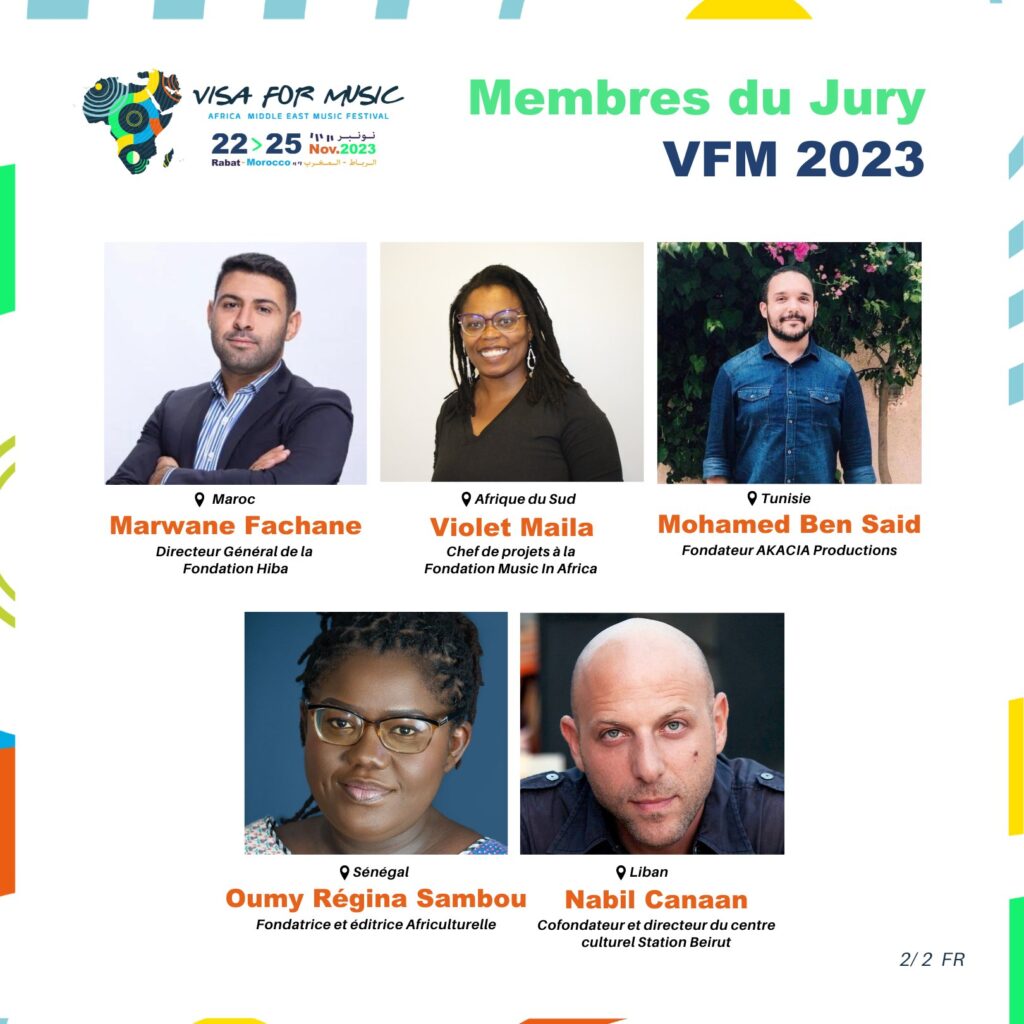 The members of the advisory jury in charge of selecting the artists who will perform at the 2023 edition, 10th edition of Visa For Music, from November 22 to 25, have been chosen.
In the coming days, they will be in charge of carefully studying the 1505 applications received from 100 countries, during the call for applications.
Selected for their unique professional experiences and their in-depth knowledge of the music industry, each of them represents a geographical area promoted by the Visa For Music festival and market, from Africa to the Middle East and North Africa.
At the end of their reflection, they will propose a selection of about thirty artists, who will have the opportunity to perform during the 10th edition of Visa For Music, an anniversary edition that promises to be colorful!
Discover without further delay their portraits:
MARWANE FACHANE – MOROCCO
EXECUTIVE DIRECTOR OF THE HIBA FOUNDATION
Marwane Fachane, Executive Director of the Hiba Foundation, has more than 8 years of experience in positions of responsibility in several structures in Morocco and abroad.
Passionate about culture as a leverage tool for development, he initiates and leads several projects within the Foundation as a strong cultural actor in the Moroccan landscape.
Created in 2006, the HIBA Foundation is a non-profit association working for the development and promotion of art and culture.
VIOLET MAILA – SOUTH AFRICA
PROJECT MANAGER FOR MUSIC IN AFRICA
Violet Maila is a music professional and art activist from South Africa.
She is currently working as a project manager for the Music In Africa Foundation in Johannesburg.
Her previous work experience includes a number of roles at music productions in Malawi and Angola, as well as the popular East African music festival Sauti za Busara in Zanzibar, where she lived for some time.
MOHAMED BEN SAID – TUNISIA
FOUNDER OF AKACIA PRODUCTIONS
In 2010, Mohamed Ben Said founded and developed AKACIA Productions, through which he programes artists of great renown in the various Tunisian festivals.
Mohamed also co-founded and organized the International Meetings of Alternative Music of Carthage (Mousiqa Wassalem).
In 2015, he co-founded the project "TUNES" and developed the activity of artist management and album production.
OUMY RÉGINA SAMBOU – SENEGAL
FOUNDER AND EDITOR OF AFRICULTURELLE
Oumy Régina Sambou is the founder and editor of the pan-African platform "Africulturelle" which is also a communication agency offering several services.
She was a journalist and presenter at Radio Sud FM from 2009 to 2017.
She is also a member of associations such as the Senegalese Cultural Press, the Network of Journalists for the Regional Programme for the Development of Culture in Uemoa and Genji Hip-hop.
NABIL CANAAN – LEBANON
CO-FOUNDER & DIRECTOR OF STATION BEIRUT CULTURAL CENTER
Launched in 2013, the Station Beirut venue champions an "arts for change" mission with programming that features the next generation of visual and live artists from the Swana region.

In 2022, Station launched SHURUQ MUSIC, its flagship platform to amplify music productions from Swana to the world. Shuruq offers artist development, content production, music marketing & booking services.