ATB Congratulates Dr. Memunat Pratt on her Appointment as the Global Chairperson for Women in Tourism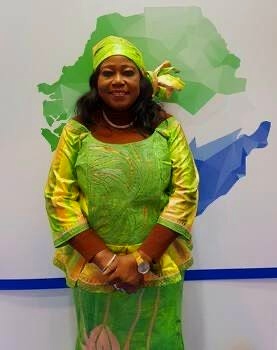 African Tourism Board has joined in a congratulatory excitement as the United Nations World Tourism Organization (UNWTO) appointed Dr. Memunatu Pratt, Hon. Minister of Tourism and Cultural Affairs, Sierra Leone, the global chairperson for women in tourism.
An official statement made available to the media from the ATB Secretariat stated:
"The Board of Directors, Executives, Management, Members and Staff of African Tourism Board would like to Congratulate Dr. Memunatu Pratt, Tourism Minister, Sierra Leone on her appointment as the Global Chairperson for Women in Tourism.
"This comes as a no surprise as you have been instrumental in positioning the tourism industry, both locally and internationally by implementing programs aimed at increasing domestic tourism, marketing the destination and attending international tourism fairs, we wish you success".
Hon. Dr. Pratt has no doubt played a very pivotal role in the tourism development, not only in her native but within the continent and the recognition from the global tourism body attests to that fact.
On his personal level, the Executive Chairman of African Tourism Board, Hon. Cuthbert Ncube also described the appointment as a "deserving one" judging by level of her unfathomable contributions to the development of tourism in Africa.
"Dr. Memunatu Pratt's appointment is a deserving one, and this is our pride in Africa, as we stand tall to eulogise and applaud her giant strides which have earned her this recognition.
"At ATB, she has been very supportive in all our activities, little wonder she received our Continental Tourism Award last year alongside other continental tourism giants like Hon. Ministers, Kereng of Botswana, Vilakati of Eswatini , Balala of Kenya, and others.
"Let me assure you of our unflinching support as you rise to the global prominence, we will continue to rally behind you, moving forward together with you. ", Ncube said.
Dr. Pratt has transformed the face of tourism in Sierra Leone by changing the face of Freetown monuments from dullness side to attractions. Revamping and reinvigorating delapitated historical heritages into more fascinating structures which President Bio commissioned.
Recently, she participated in the Africa's Travel Indaba in Durban, South Africa where she spoke passionately on different topical issues that bothered on investment in Africa, domestic tourism, women affairs and much more.
Her oratory prowess definitely echoes the intending messages to the listeners hence helping to digest and actualise the thought process.
It is expected that her appointment will give women in tourism globally another leverage to advance in their quest to making greater impact in the sector, especially in conformity with one of UN goals on women which aims at achieving gender equality as global tourism recovers.