ATB Joins AU-ECOSOCC as it Confers on Mr. Manoel Soares the "Culture Ambassador" of Africa in Brazil
The African Tourism Board Chairman, Cuthbert Ncube has joined the African Union Ecosocc, Nigeria National Chapter in a collaboration, as it conferred on Mr. Manoel Soares, a famous Brazilian journalist the "Culture Ambassador" of Africa in Brazil.
This played out at a short conferment ceremony which took place recently at the residence of Brazil Ambassador to Tanzania, in Dar Es Sallam.
In a letter made available to the media, signed by Mr. Oba Olasunkanmi John Adebusuyi, Nigeria Representative at the 3rd Permanent General Assembly of the AU-ECOSOCC, it was stated clearly the rationale behind the conferment and the expected roles to be played by Mr. Soares.
"The Nigeria Representative at the 3rd General Assembly of the African Union Economic, Social and Cultural Council ( AU-ECOSOCC) presents his compliment to Mr. Manoel Soares and has the honour to intorm you of your nomination as the CULTURE AMBASSADOR under 'My Culture and I' project of the AU-ECOSOCC".
"This decision was informed by your remarkable achievements of promotion of African Culture, creation of viable synergies between Africa and the Diaspora and your disposition to the World's Development".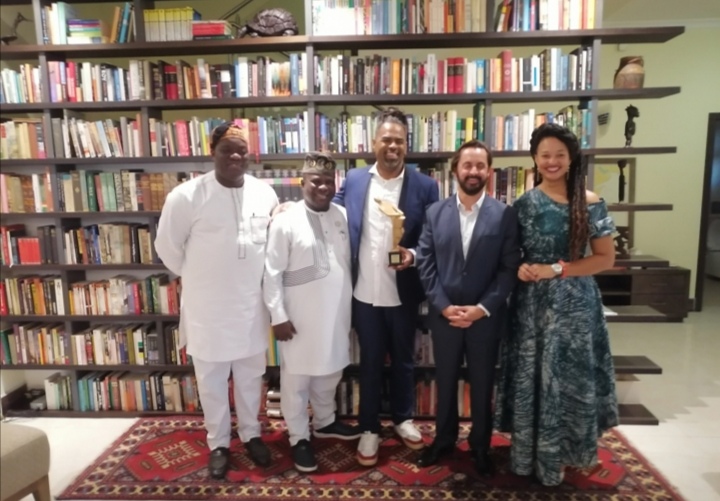 Doing the conferment, was Hon. Quadri Kenny Adu, Head, Tourism and Culture, AU-ECOSOCC, Nigeria National Chapter who passionately eulogised the sterling effort that Mr. Soares has been promulgating in Brazil which has impacted the Brazilian black communities positively.
Witnessing the conferment was H.E Antonio August Cesar, Ambassador of Brazil to Tanzania who also expressed his appreciation to the AU-ECOSOCC for recognition a Brazilian with such a great honour, promising to give all the necessary supports by creating more synergies that would close the gap between Africa and Brazil.
Also witnessing was Hon. Cuthbert Ncube the Chairman, African Tourism Board who also appreciated the initiative whereby a black African in Brazil was being honoured by AU-ECOSOCC, seeing it as a step in the right direction that would aid Africa's agenda of unifying all black people in the world under one umbrella which falls within the pursuit of ATB in its quest to promoting and marketing Africa's destinations.
Present at the event were Mr. Ajoyemi and his wife, Catherine, who both came with Mr. Soares from Brazil to promote Africa /Brazil initiatives.
Present also were, Mr. Flavio Pazeto, Minister Counsellor, Brazil Embassy in Tanzania and Mr. Kazeem Balogun , the Chief Media and Communications Officer, African Tourism Board among others.
African Tourism Board has taken it as a priority to be part of great initiatives that are geared towards making Africa a successful stories, hence synergising on this and the forthcoming project that aims at promoting, marketing and connecting the continent to the rest of the world.