First Pan-African Digital Museum in Africa to be Launched in Accra Today as the World Celebrates African World Heritage Day
Today, 5th May, 2022, will remain indelible in the minds of Africans and among humanity especially the practitioners in the field of tourism, travel, cultrure, arts, heritage and the related as the United Nations Educational, Scientific and Cultural Organisation (UNESCO) in collaboration with Pan- African Heritage World Museum (PAHM) will launch the first Pan-African Digital Museum at TV3 Executive Theatre, Kanda, Accra.
"The launch of the event will provide tourism and heritage enthusiasts an opportunity to unlearn and relearn the true history, culture, and heritage of Africa right from the comfort of their homes – a chance to tour a world standard museum on your phone or computer", the organizers noted.
Expectedly, the launch coincides with the African World Heritage Day, an annual event dedicated to celebrating the cultural and natural heritage of Africa which is observed every 5th of May.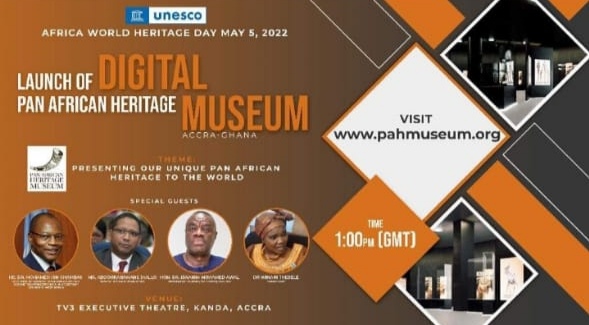 What is taking place today is the launch of the digital version of the Pan African Heritage Museum (PAHM) in which the real majestic physical structure is still under construction at the Pomadze Hills, Winneba junction, Accra, Ghana.
Various activities are being lined up for the launch and one of such is an aspect of speakership where an array of them are being prepared and they include ; the UNESCO Representative in Ghana, Mr. Diallo Abdourahamane, Dr. Awal Mohamed, the Minister of Tourism, Culture and Creative Arts, Ghana, Prof. Kofi Asare Opoku, the Chairman, Pan African Heritage Museum Advisory Board, Dr. Joseph Silver, the Chairman, African Heritage Museum International Board of Trustees as well as other Special Guests of Honor and other invited VIPs.