ATB Collaborates with Tengeru Cultural Tourism Programme and Dulutu Green Foundation on Tree Planting,Webinar to Commemorate Earth Day 2022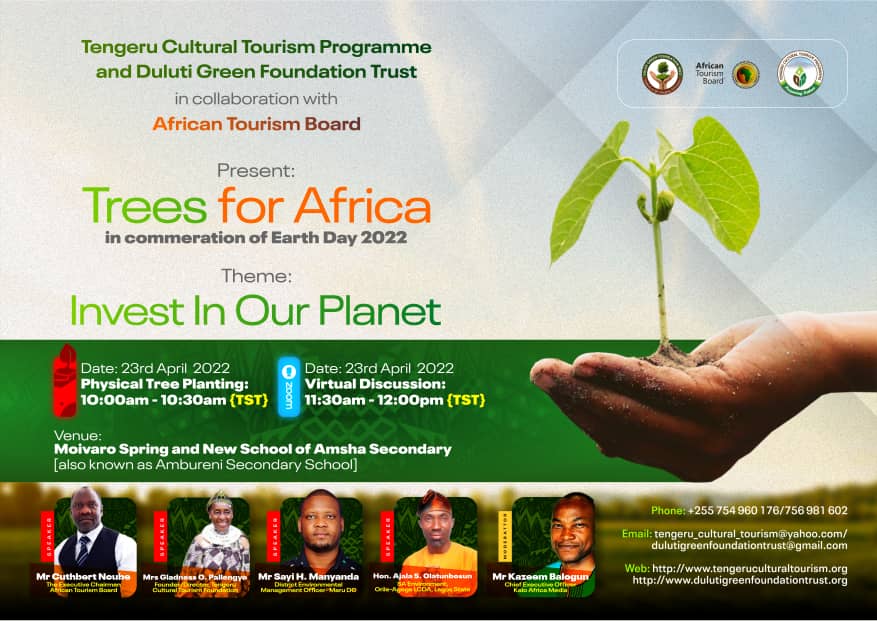 The African Tourism Board has Collaborated with Tengeru Cultural Tourism Programme and Dulutu Green Foundation in Arusha, Tanzania to celebrate the 2022 Earth Day by planting trees in some secondary schools in Arusha with the aim of making a far reaching contribution to the climate concern.
Aside the tree planting initiative, there will also be a webinar tagged "Tree for Africa" where the chairman of African Tourism Board, Hon. Cuthbert Ncube will join other speakers in a discussion on this year's Earth Day theme "Invest In Our Planet"
Other personalities that will be speaking include; Mr. Sayi H. Manyanda, District Environmental Officer, Mari DC, Arusha Tanzania, Madam Gladness O. pallengyo, Founder, Tengeru Cultural Tourism Programme and Hon. Ajala S. Olatunbosun, Special Adviser on Environment, Orile Agree LCDA, Lagos State, Nigeria while Mr. Kazeem Balogun, Media and Communications Officer, ATB will moderate the virtual discussion.
The physical tree planting will kickstart from 10:00 am to 10:30 am (Tanzania Standard Time) at Maivaro Spring and New School of Amsha Secondary School, Arusha while the virtual discussion follows at 11:30 am-12:30 am (Tanzania Standard Time) (11:00 GMT).
Last year, during the East African Regional Tourism Expo which took place in Arusha, the Chairman of African Tourism Board led a delegation to the Tengeru Cultural Tourism Programme's Center where they provided the delegation with strictly organic breakfast in such a natural environment, keeping their objectives, where an understanding was reached between the organization and ATB to collaborate on environmental matters leading to this event.
At the center, all members of the the delegation were awarded "Certificate of Guaranty" which according to the management of the center signified that at around this time, during the raining season,trees will be planted in the name of each one of the delegation, there or not, which will also be part of the activities during the tree planting.
Climate issue has been a great concern to the whole world and it has been established that having enough trees in our neighborhood can serve as one of the solutions to the global warming that threatens our existence as humanity.
Tengeru Cultural Tourism Programme and Duluti Green Foundation have been at the vanguard of promoting sustainable tourism and a better environmet in Arusha for a while under the leadership of Madam Gladness who hopes to sustan.
African Tourism Board is a pan-African tourism organization with a mandate to advocating cleaner environment and promoting African tourism, partnering viable organizations to advance the continent thereby changing the narrative to an enviable one. ATB's head office is situated in the Kingdom of Eswatini, while it has a large number of brand Ambassadors in various parts of the world.