African Tourism Board Receives Certificate of Participation from International Tourism Virtual Market for Excellent Presentation and Exhibition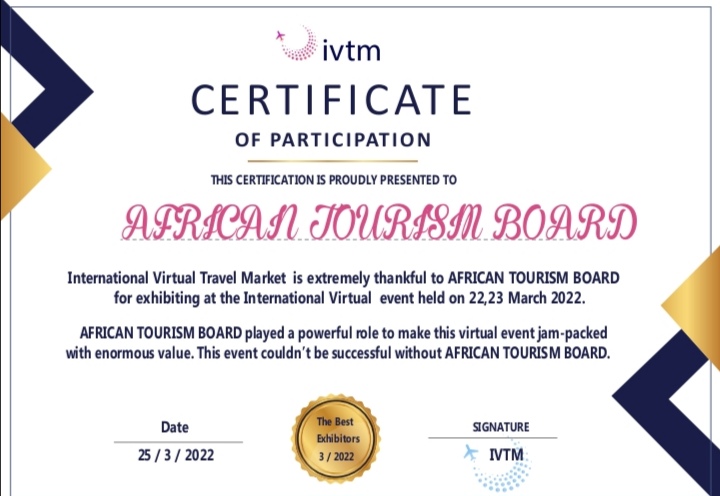 The African Tourism Baord has received a certificate of participation from the International Tourism Virtual Market, an online tourism exhibiting organization based in Turkey that showcases tourism businesses virtually through webinars, virtual exhibitions and general digital tourism operations.
In a statement released following the award of certificate, the organsiser's Media team applauded ATB for the excellent role it played during the March edition of the IVTM where the Chairman of ATB Mr. Cuthbert Ncube delivered a paper on the topic "Tourism Economics: Africa Where Are You"? which took place on the 23rd March, 2022.
"Dears at African Tourism Board, IVTM is extremely thankful to African Tourism Board ​ for exhibiting at the International Virtual Travel Market event held on 22-03-2022 and 23-03-2022".

"Its remarkable exhibition poured enormous value into this event to uplift the travel industry".
"African Tourism Board ​ played a powerful role to make this virtual event jam-packed with enormous value. This event couldn't be successful without African Tourism Board"​, it stated.
African Tourism Board has been participating in online and physical discussions that are geared towards creating a pragmatic approach to Africa's tourism conversation in the recent time. It is expected that with the unveiling of its office in the Kingdom of Eswatini, the organization will double its efforts at being the voice of African Tourism.
African Tourism Board is a pan-African tourism organization and the only continental tourism body operating from within with a global presence through its ambassadors, strategic partners and other stakeholders.


​