Hon. Najib Balala Felicitates and Applauds Eswatini Government for Hosting ATB in the Kingdom

Hon. Najib Balala, the Cabinet Secretary of Tourism and Wildlife, Kenya has felicitated and applauded the Government of Eswatini for providing an office space to the African Tourism Board which was commissioned yesterday.
This was made known by Hon. Cuthbert Ncube, the Executive Chairman of African Tourism Board who read out the official message on behalf of Hon. Najib Balala before delivering his own welcome speech at Hilton Garden Inn, Mbabane, yesterday.
The statement reads:
A MESSAGE OF GRATITUDE TO THE ESWATINI KINGDOM
"Eswatini Kingdom is popular in African values, dances and foods, thereby serving as the epitome in cultural tourism".
"I would therefore like to extend my gratitude to the Kingdom of Eswatini for generosity in financing the Secretariat office of the the African Tourism Board".
"We are grateful for your willingness in supporting tourism, one of the key pillars for many countries with a resounding ripple effect through its forward and backward linkages within the supply value chain".
"Once again, thank you for supporting tourism", Ncube read.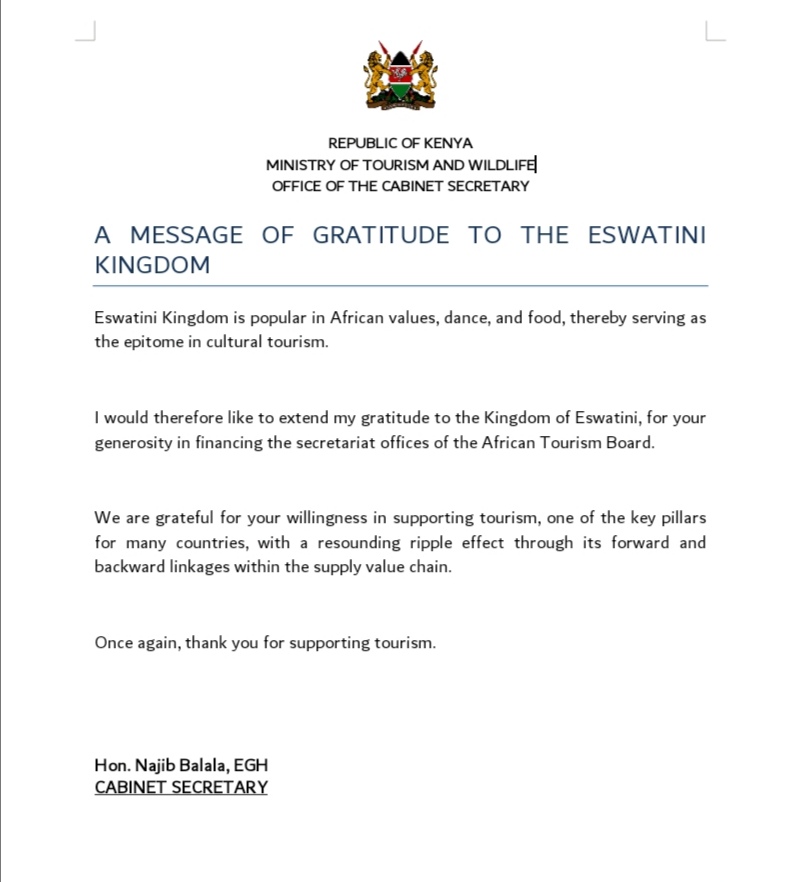 Hon. Balala met Hon. Ncube in Johannesburg few months back where they agreed on certain bilateral areas of cooperation. Also, Hon. Ncube and a delegation visited him in Nairobi on a sideline of the United Nations Environment Programme's 50th anniversary where they also discussed modalities on the best practices for tourism advancement in Africa.