Safia Muhammed Optimistic About Miss Africa Golden as She Prepares to Support Somalia if She Wins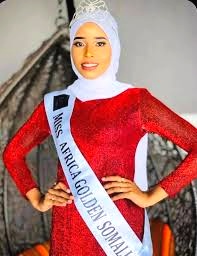 Ishwaaq Muhammed Hussein popularly known as Safia Mohammed or better still nick named "Somalian Artist", is a Somalian beauty queen and social influencer based in Nairobi, Kenya who is optimistic about her chances at the Miss Africa Golden beauty pageant taking place in Lagos on the 5th March, 2022 as she prepares to give back to her native if she wins.
Safia also believes that the pageantry is not about winning but participation and respect for the pageants should be a priority when asked about her expectations after the event where she responded in such an affirmative.
"To be empowered thereafter regardless of the outcome. Every Miss should be accorded with an honor for what their respective countries deserve and not just the overall Miss/Winner",she advised.
On being a Muslim beauty queen, she sees it as an additional opportunity for her to be more liberal in her approaches and that being her own USP.
"Being a Muslim woman who has toppled all negative believes to embrace a modern world of free will and democracy as a form of expression",Safia said.
The creative beauty queen who is also into poetry believes that certain positive traits must be part of individuals that are willing to excel in their choosen careers which are what keep her going.
She said being "transparent", "honest "and "futuristic".
On what she expects from her global fans, she requested for their unflinching support and expectations for more greater success stories from her stable, saying "The journey has just begun wait for more and keep the love flowing".
Safia believes that a win for her will help to support Somalia in such a way that it will accord certain positive image to the country that has witnessed so much challenges.
Safia needs all the support that can help Somalia as a country through her becoming the beauty crown recipient.
Currently, Pamela Aleper is the reigning beauty queen of Miss Africa Golden from Uganda and she has used the platform to support her country as well as encouraging young girls to a better path in life.
Forty black beauty queens will be arriving in Lagos from all the continents for the final which comes up on the 5th March 2022.