President Talon Actualises Promise as he Opens Benin Exhibition in Cotonou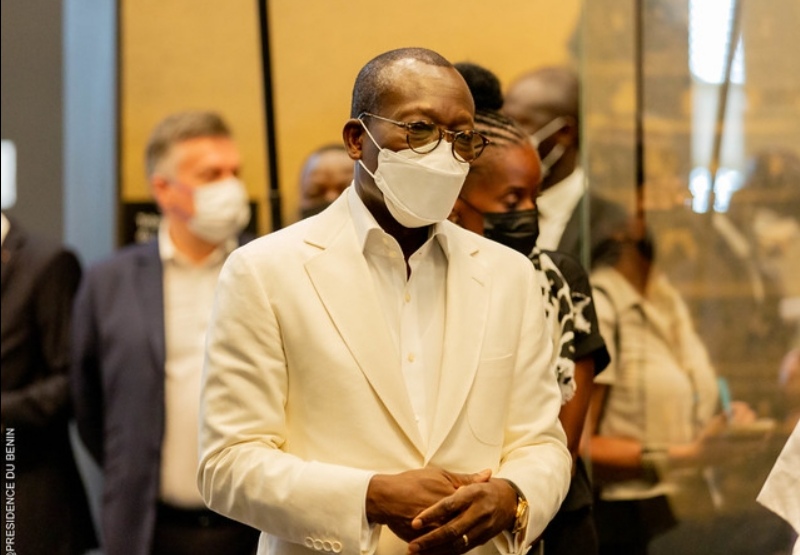 Fulfilling the promise he made to his fellow country men and women, following the return of the 26 royal treasures that were carted away by France more than one hundred years ago that he would display the treasures to the public for them to perceive.
President Patrice Talon of Benin Republic yesterday actualized his promise by personally receiving dignitaries to the Presidential Palace (palais de la Marine) in Cotonou where the opening of a national exhibition tagged "Art of Benin Yesterday and Today, from Restitution to Revelation" took place.
In attendance were the former Head of State, Nicephore Dieudonne Soglo, former Prime Minister, Lionel Zinsou and many prominent royal figures from across the country who came in their numbers to have the first glimpse of the returned artifacts as well as other artistic works fromBenin and in the diaspora.
President Talon believed the public display of these ancient works of art would create an inspiration into the current generation and the coming ones to be more creative and also it will allow the citizens to have a greater understanding about the ingenuity of their ancestors.
"Your children, grandchildren and those foreigners that come to your country will know what has happened to your ancestors ", Talon informed the gathering.
Viewing for the general public will kickoff from 22nd February to 24th May 2022 on Thursdays, Fridays, Saturdays and Sundays within the stated period.
PHOTOS FROM THE OPENING:
Photo Credit:Expo's website