Benin Republic to Reveal Returned Treasures to the World from Presidential Palace, Cotonou
The peaceful French colony of Benin Republic is set to display to the world, the returned artefacts that were stolen by French more than a hundred and thirty years ago through an exhibition.
Titled "Art of Benin, Yesterday and Today: From Restitution to Revelation" will be on display from February 20th to May 22nd, 2022 at the Palais de la Marina (The Presidential Palace) on Thursdays and Fridays from 3:00 pm to 6:30 pm and on Saturdays and Sundays from 10:00 am to 6:30pm within the specified period.
Plans are also in place to have evening of different creative events such as reading and entertainment from 7:00 pm to 10:00 pm every last Saturday of the month within the period.
During the exhibition, 26 returned Royal Treasures will be on display alongside other 34 contemporary artistic works of Beninise within and from the diaspora.
Also, one hundred and six contemporary works within the artistic space of painting, installation, arts, videos and other creatives will be awaiting Beninise and foreigners alike which is free of charge to view, a benevolence of His Excellency Patrick Talon, President, Benin Republic, who promised to ensure that all the citizens will have a sense of connectivity to their ancestral ingenuity through a display.
"The present exhibition-event "Art of Benin yesterday and today: from Restitution to Revelation", calls our attention, among other things, to the three wooden statues representing three great sovereigns of the kingdom of Danxomè. More than the material (wood) or the subject (kings), these three statues have one thing in common that few people will notice: they were made by the same artist: Sossa DEDE".
"Without this artist, without his talent and his creativity, these masterpieces that we all admire today would not exist", Talon explained.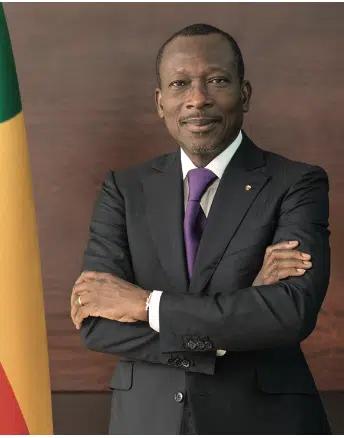 THE EXHIBITION IN BRIEF
In a diachronic approach, going from the 19th century to the 21st century, between masterpieces of yesterday and today, the exhibition " Art of Benin yesterday and today: from Restitution to Revelation " makes the heritage and contemporary creation of Benin accessible in an unprecedented way to a wide public, national and international, in Benin; nerve center of artistic creation and dissemination on the African continent.
The exhibition, on its "Contemporary Art of Benin" section, will bring together 34 contemporary artists and more than a hundred works, deploying all the artistic vitality of the Beninese scene through a diversity of mediums, aesthetics and techniques. : painting, sculpture, installation, video art, drawing, digital art, performance art… and on its section "Royal Treasures of Benin", will present in majesty the works which have just returned to their place of birth and creation after 129 years of exile.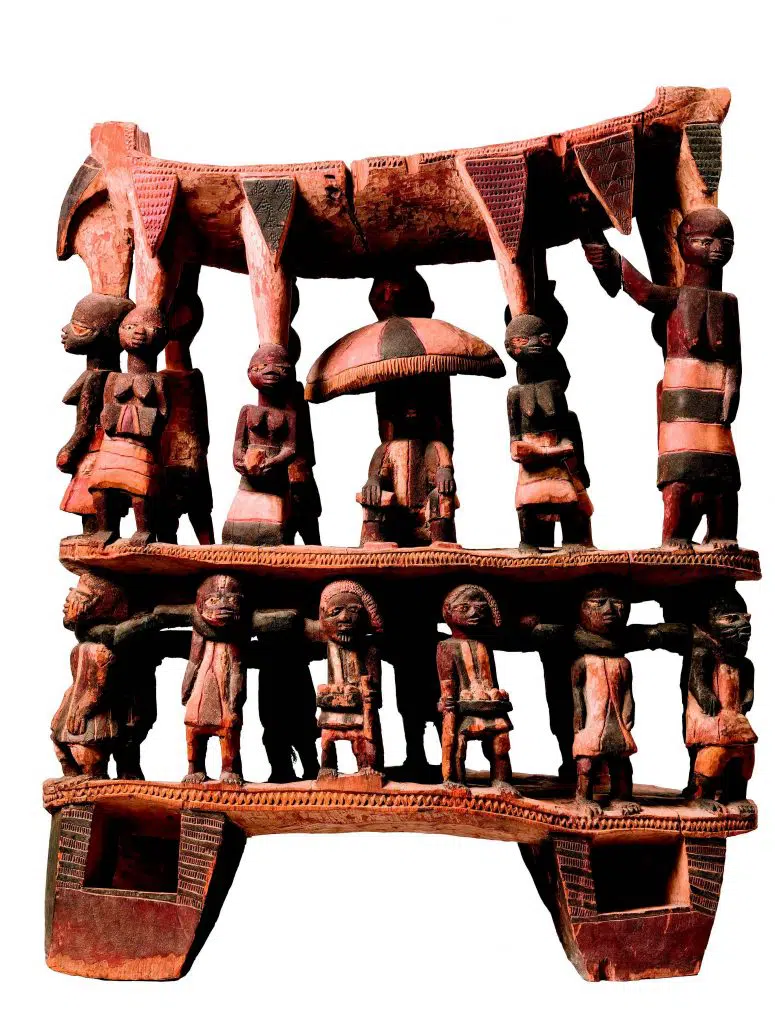 Presented at the Palais de la Marina, Presidency of the Republic of Benin, the exhibition "Art of Benin yesterday and today: from Restitution to Revelation", is a highlight of this first quarter of the year 2022 which will be declined through several multidisciplinary meetings "in" and "outside the walls": conferences, screenings, mediation actions.
This exhibition-event is part of the dynamic initiated by Benin – both to restore its heritage and to promote its contemporary creation – to provide its territory with several museums of international influence, in particular: the Museum of the Epic of the Amazons and of the Kings of Danxomè (MEARD) and the Museum of Contemporary Art of Cotonou (MACC). As many large-scale cultural facilities meeting international standards which are in prefiguration and whose inauguration is scheduled for 2024.
Supporting from expo website